Ready to Start Your New Life?
Nursing professions are high paid, growing exponentially and recession proof jobs but finding the right nursing profession for you can be challenging and time consuming. Built by nurses and career counselors, CNAnursing's goal is to help you through the process to a new and rewarding career.
Here are some simple steps to guide you:
Find out if any of your friends and family are nurses and ask them about the pro's and con's of their jobs.
Narrow down your choices by comparing the education requirements, salary and job outlooks (below).
Watch videos about the nursing professions you're interested in to learn more about the day to day work duties.
Find schools near you or online offering programs for nurses and ask them questions about the jobs, tuition and class schedules.
Set up a one day job shadow for the position you are interested in. This may be the most important step in making your decision.
Start your classes at an accredited college and you are on your way to a new life as a nurse.
Checkout our nursing career ladder to learn more about the different types of nursing: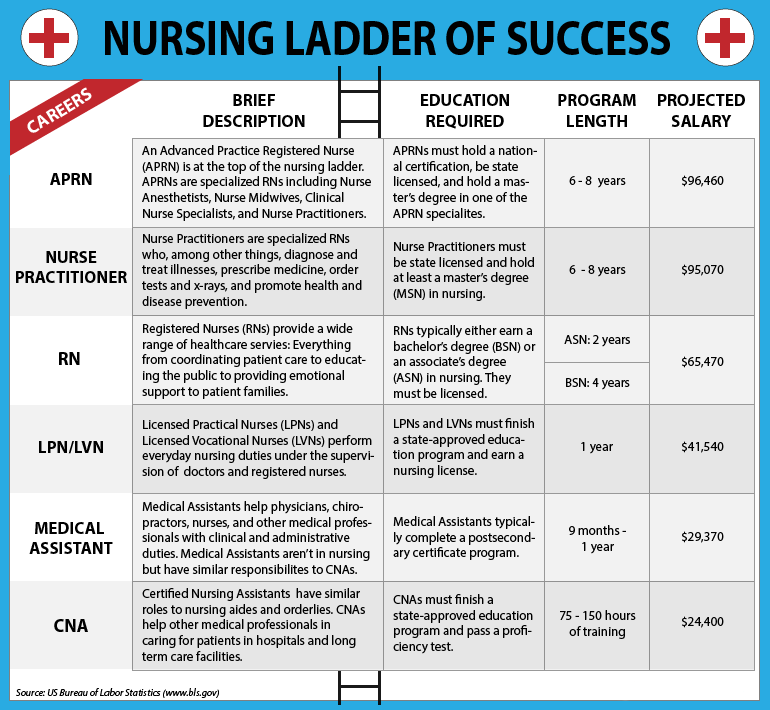 Each nursing profession on the Nursing Ladder of Success:
What are you waiting for?
There is no reason to wait. Get started today by reading our nursing profession guides, latest nursing articles (written by nurses) and follow the outlined steps. Your life will never be the same again!
Looking for more information on CNA Classes in a specific city? This is just a small sample of all the areas you can get certified!
Find local and online Nursing programs below. It's free!
Get Your Degree!
Find schools and get information on the program that's right for you.
Powered by Campus Explorer