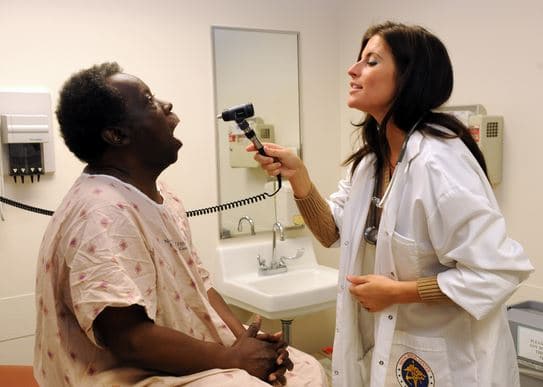 Nurse Practitioner Salary, Programs and Jobs
Your complete guide on how to become a nurse practitioner, different types and salary info. Learn how to find nurse practitioner schools and jobs near you.
Overview
Are you a registered nurse (RN) or a student interested in advancing in the nursing career? The nurse practitioner (NP) profession is a good top-cadre job for anyone interested in helping people overcome their health problems.
Nurse practitioners (NPs) are advanced-practice registered nurses (APRNs) who have completed advanced training and clinical education that is beyond the training for generalist registered nurses (RNs). In fact, a nurse practitioner is a registered nurse who has achieved the decision-making skills, clinical competencies and knowledge level that is beyond that of an RN.
NPs are qualified to order treatments, diagnose medical problems, prescribe medications and make referrals for a huge range of acute and chronic illnesses. Depending on the states in which they work, nurse practitioners may either work under physician supervision or independently. For instance, in internal medicine or primary care fields, the NPs work independently unless they need to consult physicians or make referrals.
The nurse practitioner is a critical component of a multi-disciplinary team of medical-surgical specialists, pharmacists, occupational therapists, physical therapists, mental health workers, physicians, social workers and dietitians whose work is to boost access to primary care and the quality of life for patients. The NPs practice within the full scope of practice outlined by the national and state-level legislations.
Being the core providers of primary care, nurse practitioners strive to offer individualized and holistic care to patients, and place immense emphasis on disease prevention, patient counseling, education and health promotion. The NP profession is state-regulated and the degree of care provided by nurse practitioners depends on their credentials and education. While some states allow the NPs to work independently, a huge majority still require them to have collaborative agreements with physicians. The roles, responsibilities, pharmacologic recommendations and duties of the NPs in those collaborative agreements depend on the state licensure and certification regulations.
As a nurse practitioner, you will undertake the following roles and responsibilities:
Perform patient health evaluations and maintenance activities (such as physical exam, history taking, wellness exams, breast exams, pap tests, immunizations and prenatal care and education).
Monitoring ongoing therapies on patients with chronic illnesses by offering counseling and pharmacological interventions.
Screening for the presence and extent of chronic illnesses.
Performing examinations using sex/age specific lists of recommended risk assessment and preventive interventions.
Diagnosing and treating episodic/acute minor illnesses (such as ear and throat infections, respiratory illnesses, genital and urinary tract infections, dermatology and gastrointestinal infections.
Offering on-phone consultations or triage for acute/episodic illnesses.
Consistently recording and documenting patient information in the electronic medical record (EMR).
Formulating and communicating results of medical diagnoses and potential therapies for medical disorders.
Determining the need for ordering and interpreting ECGs, X-Rays and diagnostic ultrasound tests
Prescribing drugs according to approved lists.
Providing family planning and prenatal care services, and recommending occupational therapy, physical therapy and other rehabilitation treatments.
Performing minor surgeries (such as suturing, casting and dermatological biopsies) and assisting during major procedures.
Conducting research, training, patient advocacy and policy development at state, regional and national level
Find local and online Nurse Practitioner programs below. It's fast and free.
Get Your Degree!
Find schools and get information on the program that's right for you.
Powered by Campus Explorer

As part of the healthcare team, you will also engage in referral, consultation and collaboration with other healthcare personnel. Therefore, you will:
Conduct regular consultations with physicians in accordance with the guidelines for nurse-physician consultations.
Liaise with other medical care personnel as frequently as necessary.
Make arrangements for prompt external specialist consultations.
Ensure smooth transition in medical care by communicating orally and in writing with hospital staffs, community staffs and other members of the inter-professional team who are engaged in caring for the same patients
Moreover, as a nurse practitioner, you will be engaged in administrative duties such as:
Developing, initiating and maintaining preventive health monitoring programs, such as cholesterol monitoring tests for women and men above 45 years; blood pressure monitoring tests for women and men above 50 years; and pap tests for sexually-active women between the ages of 20 years and 70 years.
Arranging follow-ups and appointments with patients as necessary.
Preparing LTC/MOH Service Reports.
Performing other administrative duties that are assigned in collaboration with other healthcare personnel.
The skills and knowledge requirements for success in the nurse practitioner career include:
Critical thinking, leadership, communication, and organizational skills.
Ability to work as a member of a team.
Strong clinical and health assessment skills.
Expertise in creating and maintaining excellent working relationships with other healthcare personnel, partner organizations, communities and other stakeholders.
Ability to maintain impartiality and confidentiality.
Self-motivation under stressing work schedules.
Impressive attention to detail and high degree of accuracy.
Ability to adapt speedily to fast-paced and dynamic working environments.
Dependability, consistency and punctuality at work.
Capacity to prioritize and manage time efficiently, and to be flexible enough to adjust to the extremely active working environment.
In addition to the general skills, you should have a good mastery of English. Computer skills such as familiarity with MAC environment, computer systems and applications, and electronic documentation records are also a necessary qualification.
To become a nurse practitioner, you must begin by earning a Bachelor of Science in Nursing (BSN) degree or a relevant undergraduate degree. After the degree, you will need to take a licensing exam to become a registered nurse and to join the generalist RN role for at least 1 year. As an experienced RN, you can now join a graduate program in nursing, such as master (MSN) and doctoral (DNP) programs, in order to specialize and qualify to be a nurse practitioner. The typical courses completed by aspiring nurse practitioners include health promotion, epidemiology, advanced pathophysiology, diagnostic reasoning and physical assessment, laboratory and radiographic diagnosis, advanced pharmacology, research and statistics, leadership and role development, health policy, and management of acute and chronic diseases in children and adults. Aspiring nurse practitioners must also undertake clinical rotations, with primary focus on their specialization areas.
When they opt for the Doctor of Nursing Practice (DNP) programs, aspiring NPs usually take advanced coursework in research methods, biostatistics, caring for special populations, informatics, health policy and economics, organizational management, and clinical outcomes measures. The specialization areas for aspiring NPs include primary care, acute care, pediatrics, neonatal care, family practice, adult-gerontology, cardiology, general surgery, anesthesiology, emergency medicine, psychiatric-mental health and women's health. After completing these programs, the NPs must pass the national board's certifying exam and receive additional credentials (such as DEA registration number, prescriptive authority and APRN license) at the state and federal levels before beginning full practice as NPs. To maintain their licensure and certification, the NPs must also achieve specific hours of clinical practice on continued medical education (CME).
There are over 104 nurse practitioner specialties. The most popular ones include:
Emergency Department Nurse Practitioners: They work in the fast-paced setting of the emergency department, treating patients of all ages.
Neonatal Nurse Practitioners: Offer medical care to pre-term and full-term infants and newborns, especially those that are critically ill.
Retail Health Nurse Practitioners: Work in retail clinics where they treat injuries, minor illnesses and manage chronic diseases.
Hospital-Based Nurse Practitioners: Are employed in hospital settings where they diagnose and manage various disorders while creating treatment plans for patients admitted in the hospitals.
Gerontology Nurse Practitioners: They evaluate, manage and treat chronic and acute medical conditions in older adults.
House Call Nurse Practitioners: They are NPs that are hired by hospitals and healthcare facilities to make house calls and treat homebound patients and individuals who have recently been released from hospitals.
Mental Health/ Psychiatric Nurse Practitioners: They provide medical services to individuals and families that are affected by mental illnesses.
Surgical Nurse Practitioners: They perform minor surgeries (such as suturing of wounds) but often assist physicians during surgical procedures.
Oncology Nurse Practitioners: Are NPs who help with the treatment and management of cancers in partnership with physicians. The nurse practitioners also address wellness and survivorship issues that relate to the cancers.
Cardiology Nurse Practitioners: They help with the diagnosis, management and treatment of heart disorders such as arrhythmias and CHF.
Certified Nurse Anesthetists: They administer anesthesia to patients prior to surgical procedures.
Orthopedic Nurse Practitioners: They specialize in the management of musculoskeletal conditions such as arthritis, joint disorders, diabetes and many other conditions.
Pediatric Endocrinology Nurse Practitioners: They offer medical care to children suffering from endocrine system disorders.
Nurse Practitioner Salary
Return to top of page >
The salary of a nurse practitioner depends on the area of specialization, location, years of experience, level of education and company size. Currently, the average annual earning for a nurse practitioner in the U.S. is $96,255. This means that 50-percent of NPs earn less than $96,255. The lowest paid NPs earn around $66,960 annually while the highest paid earn around $126,250. Moreover, according to BLS data, the top-paying industries for NPs are:
Personal Care Centers: $117,300 average pay per year
Specialty hospitals (such as substance abuse and psychiatric care centers): $109,850 average pay per year.
Grant-Making Services: $107,350 average pay per year.
The top-paying states for nurse practitioners are:
Alaska: Average annual pay of $112,090
Hawaii: Average annual pay of $104,690
Oregon: Average annual pay of $103,280
Massachusetts: Average annual pay of $102,340
New Jersey: Average annual pay of $101,030
The top nine states with the largest concentration of nurse practitioner jobs are:
Massachusetts: Average annual pay of $102,340
California: Average annual pay of $98,970
New York: Average annual pay of $97,730
Texas: Average annual pay of $97,710
Florida: Average annual pay of $86,840
Mississippi: Average annual pay of $91940
Tennessee: Average annual pay of $88720
Maine: Average annual pay of $87060
Utah: Average annual pay of $83,880
Nurse practitioner salary also varies according to the specialty of the NP. Here are the average annual earnings of the most popular NPs:
Emergency Department Nurse Practitioners: $103, 722
Neonatal Nurse Practitioners: $99,810
Retail Health Nurse Practitioners: $96,800
Hospital-Based Nurse Practitioners: $96,124
Gerontology Nurse Practitioners: $94,485
House Call Nurse Practitioners: $93,785
Mental Health/ Psychiatric Nurse Practitioner: $92,396
Surgical Nurse Practitioners: $91,023
Oncology Nurse Practitioners: $90,862
Cardiology Nurse Practitioners: $90,370
Certified Nurse Anesthetists: $100,000
Orthopedic Nurse Practitioners: $86,127
Pediatric Endocrinology Nurse Practitioners: $97,452
Nursing Practitioner Schools and Programs
Return to top of page >
After you serve for one year as a registered nurse, you qualify to join a broad range of nurse practitioner programs. However, you must choose your NP school and program carefully so that your career path is not hampered by sub-standard instruction, tutoring, facilities and practical hours. The degree programs for NPs are typically:
Master's Degree
DNP Degree
You should check with the American Association of Colleges of Nursing (AACN) whether the school or program you intend to join is accredited by the Commission on Collegiate Nursing Education (CCNE). You may also find a list of accredited programs from the National League for Nursing Accrediting Commission (NLNAC) web site. Most states accept masters or doctoral degree before they can license NPs. As you plan to join a program, make sure to note its characteristics and check if it matches with your personal, career and licensure requirements.
When looking for information regarding nurse practitioner schools and programs, you can get crucial information from websites. Many schools and universities post information regarding their programs, fees, faculties and courses online. You can use the websites to compare different programs and schools, and to assess whether the course descriptions meet the national education standards for National Organization of Nurse Practitioner Faculties (NONPF) Core and Population Competencies, and AACN Essentials of Doctoral Education. Apart from the websites, you should call or visit the colleges to find out in-depth information regarding the programs.
The most critical NP program information to look for includes:
School and program ranking
Program costs
Curriculum delivery
Length of the program
Faculty (whether it is in a clinical practice and can maintain expertise, licensure and certification requirements).
Number of students: crowded classes may hinder a good learning experience.
Clinical site placement (does the school arrange for it?)
State, regional and national level accreditation for the program.
Nurse practitioner programs are offered on-campus or online. If you are intending to join an online program, you will need to do meticulous research to get a program that would not inconvenience you during clinical placement. In fact, it is prudent to talk to the school's Nursing Program Advisor and Admissions Advisor before you join a program. Their valuable advice can easily help you to plan for your NP studies.
Some of the colleges and universities you can join for your nursing practitioner studies include:
University of Phoenix: Nationwide NP programs (masters and doctoral)
Chamberlain College of Nursing: DNP and MSN programs
South University: Family Nurse Practitioner and MSN programs
Capella University: DNP and MSN programs
Kaplan University: RN-to-MSN in Nursing and DNP programs, especially to veterans and military students.
Walden University: DNP and MSN programs for RNs
American Sentinel University Online: RN-to-MS in Nursing
Simmons School of Nursing and Health Sciences
Georgetown University School of Nursing and Health Studies: a variety of NP specialty programs
Other Popular Colleges include
Grand Canyon University
DeVry University
Sanford-Brown
University of Pennsylvania
Vanderbilt University
Michigan State University
University of Iowa
The University of Tennessee
University of Vermont
University of Wyoming
Baylor University
DePaul University
University of North Dakota
Requirements for Nurse Practitioner Career
Return to top of page >
NPs are advanced practice nurses whose expertise, knowledge and skills should be vast and impeccable. Therefore, to become a nurse practitioner, you must first complete a bachelor's degree program or equivalent and pass a licensing exam for a registered nurse. After achieving at least 1 year experience as a registered nurse, you can join a master's degree, post-graduate or doctoral degree program in nursing to become a nurse practitioner. All NPs must be licensed and certified by accredited bodies. The job requires basic computer skills such as data entry, using word processors and operating automated medical records programs.
Prerequisites to becoming a nurse practitioner include:
Bachelor of science in nursing (BSN) is a requirement for enrolling in masters of science in nursing (MSN) program
An applicant for NP program must be a licensed registered nurse
To become a nurse practitioner, you must graduate with a Master of Science in Nursing or a Doctoral of Nursing Practice (DNP). The degree programs should enable you to specialize in your field of choice, such as pediatrics, women's health, mental health, public health, oncology, and geriatric care. Once you earn the MSN or DNP degree, you must take a nurse practitioner exam to get the requisite certification.
The steps to becoming a nurse practitioner can be summarized as:
Completing a bachelor's degree in nursing: This step ensure that the aspiring NPs meet the requirements for becoming registered nurses.
Obtaining state licensure as a registered nurse: Aspiring NPs must pass the National Council Licensure Examination for Registered Nurses (NCLEX-RN) and meet the state board licensing requirements.
Experience: NP programs require at least 1 year experience as a registered nurse in the preferred specialty.
Earning a nurse practitioner master's degree: The master's degree programs take 1-3 years and expose aspiring NPs to dialectic learning and clinical experiences.
Certification: After graduating from accredited nurse practitioner programs, the graduates take certification exams that are administered by the boards dealing with their specialties.
To be a competent NP, you also need to be:
A critical thinker capable of making evidence-based decisions on when, where and how to deal with health care needs.
A good oral and written communicator
An independent observer with acute eye to detail
Able to cope well with stressing conditions, especially because of the immense human suffering, emergencies and pressures involved in this profession.
As an aspiring nurse practitioner, you should also think about getting a Doctor of Nursing Practice (D.N.P.) degree (known as practice doctorate) because there is a growing movement in favor of requiring all NPs to have DNPs by 2015.
The NP programs cost a lot of money. Most NP practitioner programs require 30-34 credits to complete and the cost per credit is $225 to $665 for in-State programs. Therefore, in-State school tuition for NP programs totals to $18,000. In out-of-State schools, the cost per credit is $570 to $1300, resulting in a tuition fee of up to $31,500. For those who take online programs, the cost per credit is $400 to $800, averaging to $22,500 tuition fee for the program. Similarly, students who attend private universities expect to pay around $45,000 or more. Usually, the NP programs take 1-2 years to complete on a full-time basis and 3-4 years on a part-time basis, and anything that forces the student to take longer time to complete a program will increase the costs.
To reduce the cost of NP education, you should:
Conduct a thorough program search in order to find a low-cost program.
Attend a University close to where you reside
Consider long-distance and online programs if they can offer you sufficient flexibility to minimize living expenses and continue with your work.
Apply for the Financial Aid for Nurse Practitioner Programs such as scholarships and loans
Get employer assistance with part of or all of the program's cost
Job Outlook for the Nurse Practitioner Career
Return to top of page >
Nurse practitioner jobs are expected to increase massively in the next 10 years because of advancing technology that improves the quality of care and increases the number of solutions to health problems. Similarly, as life expectancy improves, many patients survive for many years and require nursing care in their old age. According to the Bureau of Labor Statistics, nurse practitioner jobs will increase by more than 19 percent between 2014 and 2022. By 2025, the number of NPs is expected to double because of their growing role in primary care centers. And between 2008 and 2025, the number of NP jobs is expected to increase from 86,000 to 198,000 per year. This growth is attributed to the continuous passage of state-level laws that give NPs more independence from physicians. Moreover, the fastest growth is expected in residential care and rehabilitation centers because many more people are admitted in those centers with trauma, psychological problems and dementia. Faster growth is expected in outpatient centers because new technologies have allowed complex procedures to be availed in physician offices and outpatient centers.
Finding NP jobs is often less cumbersome because most of the practitioners are registered nurses who have previously worked in different organizations. Nonetheless, the new position may come with a few challenges and the NP must conduct thorough job search in order to get a job quickly. Job-searching efforts should begin during training. While in school, the aspiring NP should keep a good rapport with classmates, instructors, tutors, clinical internship supervisors and other influential people in the job market. It is these people that the nurse practitioner should depend on, later on, for information about possible opportunities in their companies.
Job-seeking NPs must also keep their eyes out on newspapers and other print media for any NP job adverts. When a job is advertised, the NP should tailor a resume and cover letter to address the critical and specific requirements of the job advert. Besides, nurse practitioners can use online job boards and social media (such as LinkedIn) to find and apply for jobs.
Finally, the most crucial step in getting your cherished nurse practitioner job is performing convincingly during the interview. You should prepare well for your interview by finding out what the company deals in, its services and products, and the operations of the department where you are likely to be posted if you succeed in the interview. Similarly, make sure to cruise through basic nurse practitioner content so that you are better prepared to convince your prospective employer that you are knowledgeable and competent.