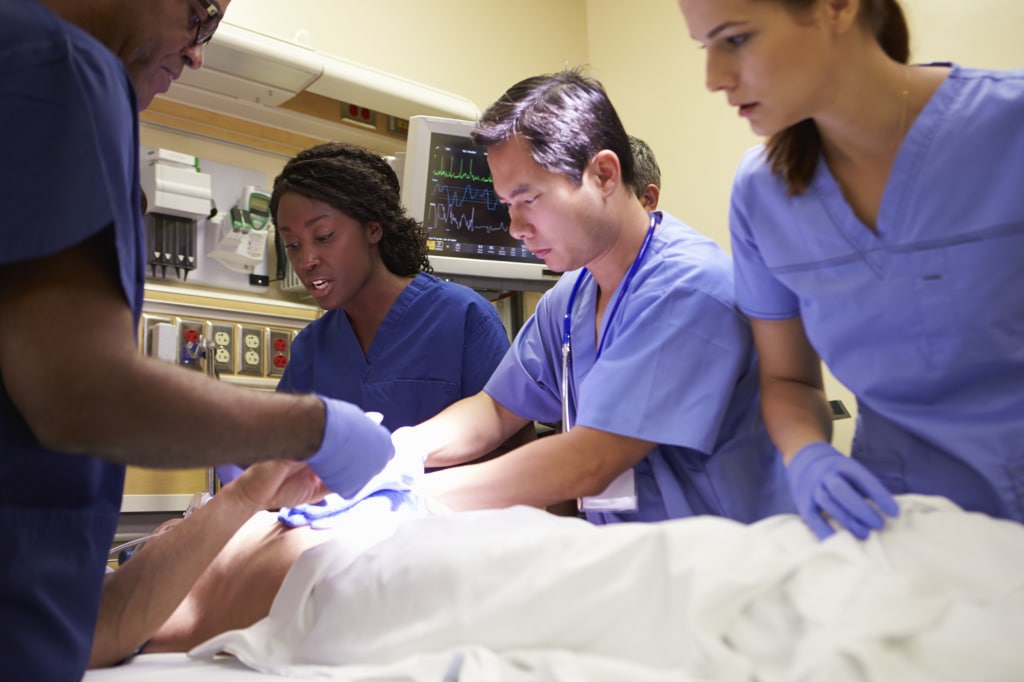 RN Programs, Schools, Jobs and Salary
Your complete guide on how to become a registered nurse, RN programs online and salary info. Learn how to find RN schools and jobs near you.
Registered nurses are trained and graduated nurses from accredited nursing programs, who have passed the national licensing exams and obtained nursing licenses. The scope of practice of RNs is usually determined by local legislations governing nurses and is usually regulated by professional bodies or councils.
Overview
Employed in a broad range of professional settings according to their specialization, registered nurses perform a wide variety of tasks during their shifts, including educating and caring for patients, building rapport with patients, patients' families and other clients, and supervising the quality of care delivered by other medical personnel such as licensed practical nurses, enrolled nurses, unlicensed assistive personnel, less experienced RNs and nursing students.
As a registered nurse, the routine duties you will perform include:
Working with different patients, from pediatric ones to geriatric ones, observing their behavior (diet, exercise and hygiene) and keeping clear records. RNs can also specialize in one of the many possible fields such as cardiac care, neo-natal intensive care, dermatology or neurologic care.
Performing medical histories, physical exams, signs and symptoms evaluation, and diagnostic tests. The RNs help physicians during various medical procedures and surgeries by availing supplies and by dressing wounds.
Keeping track of patients' medical information, including vital signs, drug side effects, deterioration and progress.
Providing counseling, health education and health promotion services.
Administering treatments, medications, wound care and many different forms of interventions.
Consulting with physicians and coordinating care in partnership with a wide range of healthcare professionals.
Establishing and reviewing effective treatment plans, interpreting patient information, operating medical equipment, and making critical decisions on necessary actions.
Directing and supervising the quality of care delivered by certified nurse assistants (CNAs) and licensed practical nurses (LPNs).
Treating medical emergencies, like strokes, burns, car accidents and heart attacks, and helping post-operative patients to recover.
Conducting research to find new and creative ways of delivering quality care, better nursing practice and patient outcomes.
To become a registered nurse, you should begin by getting proper training from an accredited institution. Aspiring RNs can join the profession through a nursing diploma, associate degree or Bachelor of Science in Nursing. There are several RN training programs either in on-campus schools or online, and aspiring RNs only need to check whether the schools are accredited, offer relevant training and suit their financial and personal needs and circumstances before they seek admission. Nursing diplomas are usually offered in hospitals, often in collaboration with community colleges, and expose students to the basic skills of nursing in inpatient environments and hospitals. Associate degree programs allow graduates to qualify for entry-level nursing jobs while Bachelor of Science in Nursing (BSN) programs are more extensive in coverage and offer the aspiring nurses the chance to work in different settings, including critical care.
CNAnursing Expert Tip: Check out this short video about RN's

Your progress to become a registered nurse will not be complete after the associate degree or the bachelor's degree because you will have to pass the National Council Licensure Examination (NCLEX-RN) before you can begin to practice. Therefore, prior to admission in any training program, make sure to check with your state's board of nursing for the right educational and professional requirements for your certification. Also check for accredited schools that offer nursing programs that can prepare you adequately for the licensing exam and for actual practice. The right courses should have the required minimum class and practical hours for licensing eligibility.
After you begin to practice as a registered nurse, you will still be required to undertake continuing education to keep your registration and to master the changing techniques of nursing practice. It is also important for you to have impeccable communication skills, impressive attention to detail, critical thinking skills, good ethical standards, problem-solving skills, high stress tolerance, and ability to work harmoniously with other people.
Similarly, aspiring registered nurses must be prepared for long hours of standing, walking, bending and lifting. The RNs usually move and lift patients and equipment, and come frequently into close contact with patients having infectious diseases. They must, therefore, be ready to apply strict protocols and safety precautions during their work. Additionally, RNs work in shifts that involve at least 40 hours of work every week. Hence, aspiring RNs must be prepared to work for longer hours and during weekends, nights, holidays and as soon as they receive emergency calls.
Find local and online Registered Nursing programs below. It's fast and free.
Get Your Degree!
Find schools and get information on the program that's right for you.
Powered by Campus Explorer
As a registered nurse, you will have the opportunity to work in different environments. RNs provide services in nursing homes, ambulatory care centers, medical offices, schools, retail clinics, hospitals and community health centers. They may also offer healthcare services in camps, sporting events, tourist destinations, prisons and homeless shelters. The most common settings include:
Physician's offices: This setting is ideal for RNs who prefer the 9-to-5 regular work schedule. In the physician's office, the RN works closely with the doctor and helps out with dressing wounds, lab tests, administering injections, and doing exams. Physician office nursing jobs are well-paying, come with regular hours and are undertaken in a comfortable setting.
Nursing homes: As the population ages, the demand for residential care facilities have increased. In turn, more RN jobs have become available in facilities dealing with Alzheimer's disease patients, stroke and head injuries, among others. Moreover, registered nurses working in nursing homes deal with a variety of patients and monitor the health of those patients regularly. The RNs create treatment plans, supervise other healthcare staffs and perform medical procedures.
Hospitals: While the hospital is typically a frenetic environment, nurses working in hospitals usually enjoy the advantages of supervisory opportunities, prompt specialization, and engagement with a broad variety of patients. Hospital-based RNs evaluate and monitor the health of patients, create treatment plans, supervise other medical officers and perform medical procedures.
Military Nursing: Individuals who aspire to help others and serve their country can join military RN programs. After their certification, military RNs can opt to work as civilians in military hospitals or as active duty officers. There are impressive perks for military nurses, including specialized training, traveling across the globe and reimbursement of tuition.
Home Healthcare Services: As a nurse, you can opt for the autonomy and one-on-one patient experience provided by home healthcare environments. Home healthcare RNs monitor the progress of patients who have left hospitals and give them appropriate treatments.
Travel Nursing: Individuals who take great thrill in traveling and exploring the country can take up short-term assignments as traveling RNs to areas with shortages of nursing personnel. Assignments usually last 8-26 weeks and the RNs enjoy free housing, fee relocation and a number of bonuses to entice them to continue with their hectic traveling assignments.
Salaries for Different Registered Nurse Specialties
Return to top of page >
The average annual salary for a registered nurse in the USA is $68,881. The salary earned by an individual nurse, however, depends on many factors, including location, years of experience, company size, industry of employment and level of education. Registered nurses can increase their salaries by pursuing advanced education, like going for a Bachelor of Science in Nursing (BSN). RN-to-BSN programs improve the skills and knowledge of the RNs, and promote their employability and job security. According to the Bureau of Labor Statistics, the lowest 10-percent of RNs earn average annual salaries of $43,970 while those in the top 10-percent get an average annual salary of $93,700.
The salaries earned by registered nurses vary from state to state. Here is a list of the top paying states for RNs:
California $45.25 per hour ($94,120 per year)
Hawaii $40.74 per hour ($84,750 per year)
Massachusetts $40.08 per hour ($83,370 per year)
Alaska $38.93 per hour ($80,970 per year)
Oregon $37.75 per hour ($78,530 per year)
Nevada $37.44 per hour ($77,870 per year)
New Jersey $36.45 per hour ($75,820 per year)
District Columbia $36.44 per hour ($75,790 per year)
Connecticut $36.37 per hour ($75,660 per year)
Washington $36.22 per hour ($75,350 per year)
Salaries for registered nurses also vary according to the industry. Here are the highest paying industries in the USA:
Federal government (including USPS) $38.10 per hour ( $79,240 per year)
State-owned colleges, professional schools and universities $37.23 per hour($77,430 per year)
State-owned educational services $37.04 per hour ($77,040 per year)
State-owned specialty hospitals $36.85 per hour ($76,650 per year)
Private colleges, professional schools and universities $35.84 per hour ($74,540 per year)
Non state-owned personal care services $35.39 per hour ($73,620 per year)
Privately owned specialty hospitals $35.28 per hour ($73,380 per year)
Office Administrative Services $34.26 per hour ($71,260 per year)
Social science research and development $34.24 per hour ($71,210 per year)
Outpatient Care Centers $34.23 per hour ($71,200 per year)
Registered nurses with bachelor's degree usually earn at least $6,000 more per year than holders of associate degree. Similarly, registered nurses with less than a year of experience earn an average annual salary of $49,863 while those with 20 years experience earn an average of $70,087 per year. Furthermore, the burgeoning demand for specialized healthcare has resulted in increased need for specialist RNs. As an aspiring nurse, therefore, you need to extend your versatility and employability by specializing in a registered nurse specialty. Here are some of the nursing specialties you should consider:
Certified Nurse Midwife: Requiring extensive schooling, experience and formal certification, the RN midwife works with obstetricians to monitor pregnancy, offers routine check-ups, educates patients on prenatal care, and provides help with delivery and post-birth education and routine exams. Experienced RNs must take direct-entry programs or nurse midwife education before receiving certification from the American College of Nurse-Midwives Certification Council. A certified nurse midwife earns an average of $92,229 per year.
Clinical Nurse Specialist: Authorized to work in clinical settings, clinical nurse specialists diagnose and treat diseases, refer patients for physician treatment, and prescribe medications. To be clinical nurse specialists, RNs take bachelor's or master's degree programs in nursing, but with emphasis on clinical practice, before they can take their National Nurses Licensing Exams and Certified Nurse Specialist Certification Exams. The median annual salary for clinical nurse specialists is $93,901.
Critical Care Nurse: Working in critical care centers that handle particular health problems, like burns, neurological disorders and cardiac issues, critical care nurses watch and care for patients with looming problems and collaborate with physicians to treat the most medically needy patients. To be a critical care nurse, a registered nurse needs to work in a critical care unit for at least 2 years and then take and pass a critical care certification exam. Many hospitals require the RNs to be under continuous education programs to deliver well in critical care sections. The median annual salary for the critical care nurse is $75,000.
Diabetes Nurse: The RNs educate diabetic patients on nutrition and fitness, and work with endocrinologists to care for the patients. To be a diabetes nurse, the RN needs to work in a diabetic facility for at least 500 hours and take a Master of Science Degree in Nursing before receiving the Advanced Diabetes Management Certification through American Association of Diabetes Educators. The median salary for a diabetes nurse is $75,000.
Family Nurse Practitioner: The nurses examine patients, diagnose various conditions and prescribe medications to families. Depending on their state of practice, they may work under supervision of physicians or independently. To become family nurse practitioners, RNs must earn bachelor's degrees and master's degrees in nursing, pass their licensure exams, and receive the American Nurses Credentialing Center or the American Academy of Nurse Practitioners certification for family nurse practitioner. The average annual salary for the family practitioner nurse is $94,407.
Gerontological Nurse Practitioner: Specializing in treating the elderly, the nurses perform various tasks including routine check-ups and prescribe medications in nursing homes, home health care services, hospitals and clinics. RNs must have bachelor's degrees and master's degrees in nursing and achieve the American Nurses Credentialing Center certification or the American Academy of Nurse Practitioners certification for gerontology before they can practice. The nurse earns an average annual pay of $92,170.
Health Policy Nurse: The nurses work with communities to promote health through good public policies. Working with universities, state legislatures, United States Congress or other public agency, the health policy nurse assesses loopholes in laws, devise strategies for changing public attitudes towards various healthcare policies and suggest new policies for implementation. To be a health policy nurse, a registered nurse must have a bachelor's degree and master's degree in nursing and complete a 10-week residency program in health policy. Doctorate in nursing may boost chances of employment. The average salary for the nurse is $95,000 per year.
Informatics Nurse: Being experts in math, information systems and statistics, informatics nurses collect, interpret and forward useful medical data to healthcare institutions and personnel for informed actions. They work in hospitals, pharmaceutical research companies and government agencies (such as the Center for Disease Control-CDC). To be an informatics nurse, a registered nurse must take CLE courses in informatics and pass the American Nurses Credentialing Center exams to receive informatics certification. The average annual salary for the nurse is $88,000.
Medical-Surgical Nurse: The nurses work in surgical settings. Aspiring medical-surgical nurses must take surgery related electives during their degree programs, receive RN licensing, work for at least 2000 hours in medical-surgical centers, and receive medical-surgical credentialing. The nurse earns an average of $75,000 per year.
Nurse Advocate: The nurses help the patients by acting as links between patients and physicians, and helping patients to differ with and decline certain prescriptions during the course of treatment. RNs can become nurse advocates by learning the non-medical aspects of treatments such as financial and social implications. They earn between $68,000 and $90,000 per year.
Nurse Anesthetist: The nurses administer anesthesia, care for patients in operation rooms and make post-operative follow-ups. To become a nurse anesthetist, registered nurses must obtain master's degrees in nursing, serve for at least 1 year in emergency or ICU rooms, and pass the certification exams for registered nurse anesthetists. The nurse anesthetist earns an average of $154, 390 per year.
Nurse Attorney: These are registered nurses who have gone for further education to become nurse attorneys. They work in several areas, including litigation firms, hospital legal departments and social security disability sections. To be a nursing attorney, you must first be a registered nurse before enrolling in a law school for at least 3 years and sitting the bar exam to become an attorney. The average salary for a nurse attorney is $110,000 per year.
Nurse Educator: Nurse Educators train students to become nurses. They are instructors at different levels, including diploma, associate degree, bachelor's degree, master's degree and doctorate levels. To become a nurse educator, you must first complete a bachelor's degree and master's degree in nursing, get a registered nurse license, and then pursue the nursing educator's certification from an accredited body such as the National League of Nursing. The median annual salary for the nurse educator is $83,846.
Nurse Manager: The nurse performs administrative and supervisory duties, ensuring smooth shifts, quality care, best practices, disciplinary actions and handling of all paperwork. To become nurse managers, RNs must take master's degree in nursing or business administration and be certified by the American Organization of Nurse Executives. The average annual salary for the nurse manager is $93,371.
Neonatal Nurse: The nurse cares for sick and premature newborn babies and provides consultations to families. The average annual earning for neonatal nurses is $74,000.
Nurse Practitioner: Providing preventive and primary care in medically underserved areas, the nurses engage more in pediatrics, gerontology, acute care, adult practice, family practice and women's health. They earn an average of $78,000 per year.
Orthopedic Nurse: The RNs serve patients with musculoskeletal ailments, like diabetes, joint replacement surgery patients and those with arthritis. They educate the patients on the conditions and on available treatments and self-care options. An orthopedic nurse earns an average of $81,000 per year.
Psychiatric Nurse Practitioner: The nurses provide support and consultation to patients with mental and psychiatric disorders. The psychiatric nurse earns an average of $95,000.
Registered Nurse Schools and Programs
Return to top of page >
While you may have the right mindset, compassion and the urge to succeed in clinical settings, you may fail to achieve your career goals if you do not choose the right registered nurse training school. Therefore, you should make sure that you choose a school that suits your career goals. The school should have qualified staffs, training curriculum and facilities to help you pursue your associate degree or bachelor's degree program. If you yearn to rise up the nursing ladder, you need to join a school that offers RN-to-BSN program.
Secondly, the right school should satisfy your personal needs. You need to assess the demands on your life, such as family responsibilities and full-time work, in order to choose a program that is flexible enough to accommodate your personal needs. And if you have had difficult times during your previous schooling years, you need a school that offers faculty mentoring, tutoring, extra resources and small class sizes. Furthermore, there are online programs for non-clinical nursing classes and you can easily find a school that fits perfectly with your life and your needs as a student.
Thirdly, the school you choose should have the right reputation, including state-level and national accreditation, state nursing board approval of its programs, and strong relationships with clinics, hospitals, healthcare facilities and other potential employers. The right school should also offer valuable programs to help students succeed in their careers. For example, some colleges provide graduate placement programs, post-certification follow-up programs, and job-hunting help. Equally, some schools train students on writing cover letters and resumes, and on preparation for interviews and networking with employers.
GED and high school diploma holders can begin their nursing careers by joining practical-nursing diplomas and achieving the licensed practical nurse (LPN or LVN), or starting out with an associate degree or a bachelor's degree and becoming registered nurses (RNs). Practical nursing programs take around 1 year to complete. During the training, the students undertake theoretical and practical courses, from anatomy to nutrition, and then take certification exams as soon as they graduate. Diploma holders can assist patients directly, but they also work under the supervision of registered nurses. Ordinarily, diploma holders have the chance of becoming RNs through continuous education.
The associate degree nurse (A.D.N.) programs take 2-3 years. During their training, A.D.N students study a broad range of courses, including microbiology, anatomy, physiology, geriatric nursing, clinical medicine, psychology and other specialized nursing courses. The A.D.N courses are offered in colleges, nursing schools and universities, and the graduates take certification exams after their training in order to get RN licenses. The Bachelor of Science Degrees in Nursing programs (BSC/BS/BSN) are typically four year programs that prepare students for complex nursing procedures and specialized care. During BSN training, trainee nurses hone their communication skills, leadership and critical thinking skills, and master advanced nursing techniques, scientific researching, diagnosis and treatment of various medical disorders.
The top schools offering registered nurse programs include:
University of Washington in Seattle
Johns Hopkins University in Baltimore, MD
University of Michigan in Ann Arbor
Columbia University, New York, NY
Oregon Health and Science University, Portland, OR
University of Colorado, Denver, CO
University of Illinois, Chicago, IL
University of Maryland, Baltimore, MD
University of North Carolina, Chapel Hill, NC
University of Pittsburgh, Pittsburgh, PA
While nursing is primarily a hands-on profession, it still leaves room for online programs. Offered as long-distance learning programs, the online courses are structured to ensure that theoretical aspects and assignments are completed online while clinical experiences are gained from within local community healthcare centers. Besides, accelerated (second degree) programs can easily be completed online, but students with other degrees are required to have high GPAs before joining online nursing programs. Moreover, online schools are convenient for those who work full time or have family responsibilities. Some of the best online RN-to-BSN programs include:
Capella University: BSN – RN-to-BSN (CCNE-accredited)
Kaplan University: BSN – RN to BSN
Western Governors University: B.S. Nursing (RN to BSN)
University of Massachusetts – Amherst: NLNAC-accredited RN-to-BSN program
Jacksonville University: CCNE-accredited fully-online RN to BSN degree program
Western Governors University: CCNE accredited Bachelor of Science in Nursing program
University of Wyoming: CCNE-accredited RN to BSN degree program
Drexel University: CCNE-accredited RN to BSN program
Kent State University: CCNE accredited RN to BSN degree program
Grand Canyon University: CCNE accredited RN to BSN degree program
Sacred Heart University: CCNE-accredited program
Chamberlain College of Nursing: online RN to BSN program accredited by CCNE
Ohio University: CCNE accredited program
Educational and Professional Requirements for Registered Nurses
Return to top of page >
Before prospective RNs can take the NCLEX examinations, they can opt for three different forms of training: a 3-year hospital diploma, 2-year associate degree in nursing, or 4-year Bachelor of Science in Nursing. RN-to-BSN programs usually take 2-3 years to complete while part-time options usually take much longer. As a prospective nurse, you will need to consider the specific requirements and eligibility criteria for your nursing school because each school has a different set of guidelines. Generally, however, you should:
Have a GPA range of 2.0-3.25
SAT or ACT exam
Three years of math education, especially algebra and geometry
Three years of science, especially chemistry and biology
Four years of English
While the associate degree can be completed quickly, taking it will force you to join a bachelor's degree program as soon as you complete it because of the limited job opportunities. In fact, the BSN programs have become the industry's standard and it is good to take them at the earliest of time, as long as there are requisite qualifications. Indeed, while holders of associate degrees can be employed, it is critical to have a bachelor's degree if you want to advance your education in the field. Achieving a Master of Science in Nursing (MSN) can lead to greater opportunities as anesthetist nurse, nurse practitioner, clinical nurse specialist or midwife nurse.
The curriculum for RN training programs usually contain some common courses, such as nursing types, patient care, nursing practice and theory, health assessment and child and infant care. Diploma in Nursing is rare and is offered by healthcare facilities. They last for 3 or more classroom and clinical instruction years and can allow holders to pursue further education. In associate degree programs, priority is given to hands-on training and to covering adult and family health, pharmacology, chemistry, nutrition, microbiology, anatomy and physiology, human development and psychiatric nursing.
The comprehensive BSN training programs cover advanced nursing methodology, clinical training, administration, community health, leadership in nursing, nursing research, professional issues in nursing, and healthcare management, in addition to the courses covered in diploma and associate degree programs. There are also graduate programs, such as Master's Degree (MSN) programs designed to prepare RNs to be nurse educators, nurse administrators and Advanced Practice nurses, and Doctor of Philosophy (PhD) programs that are research-focused.
After classroom training, trainee nurses must undertake supervised internships in healthcare settings such as hospitals, clinics and other healthcare facilities. During those internships, experienced professionals oversee the work done by the students and offer them additional practical instruction on protocols, nursing duties and various procedures. Trained nurses must take the National Council Licensure Examination (NCLEX) before they can be licensed. To be eligible for the exams, you must apply for a nursing license from your state's board of nursing. The state board will clear you for the exams if your training meets the requirements. The NCLEX exam will cover:
Safe and effective care and infection control
Coping and psychosocial adaptation
Health promotion, prevention and maintenance, including disease detection and prevention
Basic care techniques, patient comfort, parenteral therapies, pharmacological principles, physiological adaptation and reduction of potential risks.
Apart from licensing, some states require registered nurses to meet additional requirements, such as continuing education, in order to practice.
To complete the two-year programs, students usually pay about $1400 for tuition and $4000 for clinical fees per semester. For bachelor's degree programs, students pay $2000 to $3000 for tuition and $7000 to $8000 for clinical placement per semester. Apart from these basic costs, students also pay variable costs for books, housing, basic living expenses and parking. Besides, the cost of training at hospital-affiliated nursing schools can very high, hitting $55,000 for resident students and over $100,000 for non-resident students.
Job Outlook for Registered Nurses
Return to top of page >
According the U.S. Bureau of Labor Statistics, the number of registered nurse jobs will increase by up to 26 percent by 2020. The expected growth is due to an ageing population that constantly demands nursing care. The BLS has also reported that registered nurses with at least a Bachelor of Science in Nursing will get better and high-paying job opportunities. Nonetheless, the number of available jobs will continuously vary according to the location and education, and prospective nurses should conduct thorough research in order to have a more complete grasp of the changing trends in the RN job market.
If you are looking for a registered nurse job, you should begin by creating a professional resume that is tailored for the specific specialty you are interested in. Your resume is your single most important marketing asset and should elaborate your skills and talents very clearly to the recruiting agency or institution. Link up with your classmates, instructors and supervisors to know if there are opportunities in their facilities. If you have no place where you can be engaged on a wage basis, you should not neglect a volunteer job. As you pursue the jobs advertised on newspapers and notice boards, never forget to check online job boards for possible opportunities.
If you are called for an interview, you need to make sure that you project yourself as a competent and talented RN with a positive attitude and likeable personality. Similarly, you should prove that you have the fundamental mastery of nursing knowledge. Many employers look for compassion, accountability, communication and a sense of teamwork, and you should not fall short of their expectations. Moreover, when preparing for your registered nurse job interview, you should learn about the facility, services, culture and unique attributes of your prospective employer.
You must also dress properly and prepare answers to questions about your experience, career goals, skills, personal life and education before leaving for the interview. Arrive at the facility in time and prepare to talk positively about your past experiences. Most employers prefer people who are flexible with shifts, areas and remuneration packages, and those who have the requisite licenses and certifications. Therefore, make sure to demonstrate flexibility in order to persuade the employer to give you the job. Between one interview and the next, your must remain hopeful and positive.