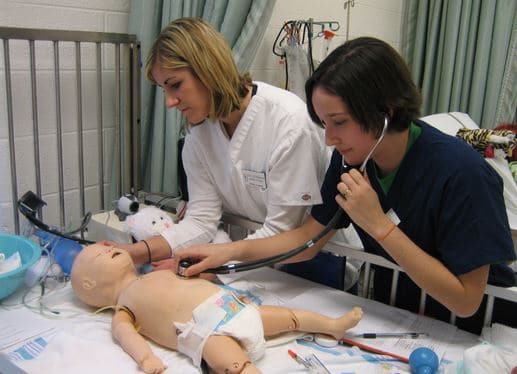 LPN Programs, Schools, Classes and Salary
A complete guide on how to become a LPN, jobs, LPN programs online and salary info. Learn how to find LPN schools near you and earn your certification.
Licensed Practical Nurses (LPNs) are members of the healthcare delivery system who provide Essential Care to patients and who usually work under the supervision of Registered Nurses (RNs) or doctors. Essential Care refers to tasks such as helping patients eat, walk, comb their hair and bathe. LPNs, also known as licensed vocational nursing (LVN), may also give medicines; take vital signs and undertake other basic tasks. Working in settings such as nursing homes, hospitals, private homes and assisted living facilities, the they assist patients with personal and medical related tasks, and help nurses and doctors perform their functions. However, they are not allowed to perform complex nursing duties such as helping with anesthesia and assisting in surgery.
Career Overview
Joining the licensed vocational nursing career is an excellent first step in joining the healthcare industry. In fact, a huge portion of registered nurses started out as LPNs while many healthcare administrators have also started out as LPNs. However, if you want to become a licensed practical nurse, then you must know that this is a profession for those who can thrive in fast-paced job environments and those who can take a variety of responsibilities. Indeed, you should be a person who can make a positive impact in the lives of injured and sick people if you are to enjoy and succeed in this career.
The most useful skills and traits that you must have in order to succeed in this career include:
Compassion: Must empathetic and caring towards your patients.
Superior interpersonal skills: These skills enable them to build rapport with patients and their families, and to work smoothly with physicians and other members of healthcare delivery teams.
Stamina: LPNs perform physical tasks that require strong and agile individuals with unwavering endurance.
Superb attention to details: To deliver the right quality of care promptly, you should have the ability to recognize and attend to all the necessary details.
Excellent speaking skills: Nurses can only deliver the best quality care if they can communicate appropriately with patients and other personnel in the medical field
Patience: The routine tasks of such as coping with injured patients, dressing badly wounded patients and coping with stubborn patients require the ability to exercise patience at all times.
Problem-solving skills and an exceptional ability to multi-task.
Therefore, to succeed in the career, you must be a compassionate, excellent listener, physically fit, good-natured, organized, supportive and dependable person who can manage time well, endure hardships and high stress levels, work effectively in a team and always follow best nursing practices and ethics.
CNAnursing Expert Tip: Check out this short video about what LPN's do

LPN Programs
Enrollment in an LPN program is the first step in actualizing your dream of starting your new career. The training programs usually take one year of coursework and practical training. You can find these programs in universities, private medical training institutions, community colleges and technical institutes. These days, there are several programs that are conducted partially in classrooms and partially online, allowing even individuals with very busy schedules to complete their training. But before you can be accepted into an LPN program, you will be required to present your GED certificate or high school diploma (with at least 2.0 GPA), prove that you are a good citizen (through drug tests and criminal checks) and prove that you are proficient in English.
Once you begin your training, either full-time or part-time, you will spend you classroom hours learning subjects such as anatomy, physiology, first aid, nutrition, biology and practical nursing (pharmacology and basic nursing). You will also be expected to complete a supervised clinical practice as a core aspect of your training. The clinical practice will be in a clinical setting such as hospital, health care facility or nursing home, and you will need to take full advantage of the training program in order to gain hands-on experience. Your successful completion of both the class-work and the clinical practice will allow you to earn your certificate in practical nursing. Before you join any LPN training program, however, you should find out whether it is accredited by the National League for Nursing Accreditation Commission (NLNAC). Choosing an accredited program will allow you to gain the requisite knowledge and skills for passing the licensing exam.
Find local and online Licensed Practical Nursing programs below. It's fast and free.
Get Your Degree!
Find schools and get information on the program that's right for you.
Powered by Campus Explorer
As a rule, all graduates must take and pass the National Council Licensure Examination for Practical Nurses (NCLEX-PN). Therefore, as soon as you complete your certificate or diploma, you should register for the NCLEX-PN and boost your chances of getting employed. The registration for the NCLEX-PN exam is done through applying to your state's board of nursing. After taking and passing the NCLEX-PN exam, you can now apply for your LPN license with the board of nursing in your state. Once you receive your license, you can now apply for jobs. Alternatively, you may opt for further education and become a registered nurse or qualify for supervisory nursing positions.
So, how should you choose the best LPN school for your training? You should visit your state's board of nursing website and licensing body's website to check out the list of accredited schools. Moreover, when choosing a school, you should consider:
The school's pass rate in NCLEX-PN
Accreditation
Availability of online classes
Learning resources (handouts, books, kindle, iPad and links to articles).
Cost of LPN training in the school
Location of the school and its accessibility
Availability of tuition assistance programs such as scholarships and grants
Credits for courses already taken
Nearby arrangements for your clinical practicum
Whether the school's programs match your career plans
Some of the top LPN schools you may consider include:
University of Phoenix
Kaplan University
ITT Technical Institute
DeVry University
Baker College Online
Capella University
Grand Canyon University
Herzing University
Walden University
Azusa Pacific University College
How much does it cost to complete a training program?
The total cost of training is usually $10,000-$25,000 depending on the location of the school and whether it is private or public. In fact, the cost may be as low as $4,000 for in-county residents who train in community colleges. Out-of-county students pay $8,000, while out-of-state students may pay as high as $15,000 to train in community schools. Besides, a number of state schools usually receive government tuition subsidies and may charge lower tuition fees. Additional fees such as money for uniforms, books, background checks, liability insurance, travel, medical exams, graduation, entrance exam and medical equipment (blood pressure cuff and stethoscope) are usually variable. After completing the program, you will need to pay $200 to the National Council Licensure Examination (NCLEX-PN) for the licensing exams. If you opt to take your LPN training online or via a hybrid program, you will reduce the costs drastically.
As you choose your LPN school, make sure to give substantial weight to the costs involved. In truth, LPN training is expensive and you will need to make proper arrangements for funding before you commence your training; otherwise, you will drop out mid-way. Various ways of funding your education include:
Cash from parents, your savings, and well-wishers
Student loans obtained via government or school lending programs
Scholarships
Government grants
Work-and-study programs
LPN Job Description
If you choose to become a licensed practical nurse, you must know that you have opted to become a critical member of the healthcare delivery team who will routinely be tasked with direct care duties. Licensed practical nurses usually deliver basic assistance and care to sick, disabled and injured persons in a variety of healthcare settings. They also provide support to registered nurses, physicians, certified nursing aides, home health aides, occupational and physical therapists, caregivers and other members of the healthcare system. As a result, the licensed practical nurses work in hospitals, medical offices, nursing homes and private homes. In some cases, families do hire them to care for their family members in their homes. Similarly, health insurance companies usually hire them to help them respond to health questions raised by their clients. Hence, the job description usually depends on the facilities where they work. Nevertheless, there are typical commonalities in the duties and responsibilities of Licensed practical nurses.
The common duties of a licensed practical nurse include:
Keeping detailed, precise and accurate health records of patients under their care.
Monitoring the health and progress of patients under their care by taking vital signs such as temperature, weight, blood pressure and height.
Administering basic nursing care, like bandaging injured areas, cleaning wounds, changing bandages, inserting catheters, administering intravenous medications, and helping patients bathe, eat, dress and get onto their beds.
Taking medical histories and entering patient data into hospital or clinic computer systems.
Immunizations
Giving patients medications according to physician prescriptions.
Reporting the progress and status of patients to registered nurses and physicians.
Explaining medical procedures, costs, and the side effects of various treatments to patients, while also listening to and alleviating patient fears.
Teaching caregivers and families how to care for injured, sick and disabled patients.
The licensed practical nurses also prepare patients for medical procedures, and may collect certain samples (such as urine and blood samples) for laboratory testing.
Apart from the common duties, they are usually tasked with job-specific duties which typically depend on the job settings. For instance, a licensed practical nurse who cares for injured and sick patients in the hospital environment will:
Obtain vital signs routinely and move patients safely to their rooms.
Administer and manage IVs.
Supervise certified nursing assistants (CNAs).
Explain release instructions to patients, their companions, friends and families.
Monitor food and fluid intake and output.
Manage patient charts and files, and confirm that such charts are updated accurately and promptly.
Plan for and manage every patient according to specific care needs.
Observe and record patients' reactions to treatments, procedures and medications.
Interview patients and make accurate records of their medical history.
Working in rehabilitation centers and nursing homes, the job-specific duties usually include:
Observing and assessing the reactions of patients to medications.
Offering emotional support.
Admitting new residences.
Assessing the mental health and psychological stability of the patients.
Checking the patients' skin routinely in order to discover and prevent potential bed sores.
Assisting doctors during their rounds in residents' rooms.
Explaining medical procedures and treatments to the residents and their families.
Assisting patients with their daily needs such as dressing, eating, bathing and moving around.
Delegating and assigning duties to non-licensed staffs.
The job-specific duties of licensed practical nurses who work in medical clinics and physician offices include:
Billing patients.
Writing prescriptions according to physician requests.
Working and linking up with insurance firms.
Keeping precise and accurate medical records.
Taking phone calls and scheduling appointments.
They also work in private homes where they perform the following unique responsibilities:
Monitoring the overall health of patients under their care.
Changing wound dressings, catheters and bandages.
Helping patients to get dressed, eat, move to and from the bathroom, bathe and perform other tasks.
Confirming the frequency and dosage of medications taken by patients.
Designing and implementing exercise programs for patients under their care.
Remaining on-call whenever they are handling healthcare emergencies.
Work Environment
Return to top of page >
While many people usually assume that LPNs only work in hospitals and physician offices, the truth is that a majority of them work in nursing homes and nursing care facilities. According to the U.S, Bureau of Labor Statistics, 29% work in nursing homes, 15% in hospital facilities, 12% in physician offices, and 9% as home health providers, while 5% work in retirement homes. In the nursing homes, they deliver compassionate care to disabled, injured and elderly patients who have varying physical, mental and emotional capacities. At nursing homes, they bathe the patients, help them in and out of bed and clean their beds, among other duties.
In the hospital environment, an LPN must work closely with registered nurses, often as an assistant. When working in hospitals, the LPNs work in shifts, which may include day, night or weekend services. In the physician offices, the working shifts are usually more predictable because the LPNs assist the doctors and often handle day-time clerical and administrative duties. Likewise, LPNs may be employed by home health companies to deliver direct care to their clients and to travel to various distances as they take the services close to the patients. Often, such LPNs are tasked with caretaking duties such as the hygienic upkeep of the shut-in and the sick. In retirement homes, only few LPNs are usually employed because the residents of such homes can still care for themselves in many ways.
Nonetheless, and in whatever environment where they work, LPNS usually complete their shifts while on their feet. They are always moving around, walking, standing, lifting and doing tasks that require stamina and agility. If you aspire to be an LPN, therefore, you must be prepared to deal with possible muscle strains and fatigue. Moreover, some patients may be rude and uncooperative and you must be an astute communicator to succeed in the working environment. Likewise, LPNs who work in physician offices can expect regular work schedules (during normal business hours) while those who work in 24-hour facilities have to put up with irregular work schedules, which may include working at night, during holidays and on weekends.
Licensed Practical Nurse Salary
The average annual salary of a licensed practical nurse is $42,400 per year. According to the Bureau of Labor Statistics, the average hourly wage of an is $20.30, weekly wage is $815 and monthly wage is $3,533. With the national average salary per hour being $22.01, translating into $45,790 per year, the LPN salary is just slightly below the national average and when considered in terms of the qualifications necessary for the career, it is one of the best paying jobs in the U.S. Nevertheless, LPN salary varies from state to state, with experience, and with level of training. The licensed practical nurses are also employed across sectors with varying remunerations.
The highest paying states are:
Connecticut: annual average salary of $53,560
Nevada: annual average salary of $52,850
Alaska: annual average salary of $52,480
Massachusetts: annual average salary of $52,060
New Jersey: annual average salary of $51,350
California: annual average salary of $51,170
Rhode Island: annual average salary of $51,120
District of Columbia: annual average salary of $50,980
Arizona: annual average salary of $50,290
Maryland: annual average salary of $49,900
The highest paying metropolitan areas and cities are:
San Francisco-San Mateo-Redwood City CA: annual average salary of $60,550
San Francisco-Oakland-Fremont CA: annual average salary of $59,910
Oakland-Fremont-Hayward CA: annual average salary of $59,540
Salinas CA: annual average salary of $58,950
Vallejo-Fairfield CA: annual average salary of $57,850
San Jose-Sunnyvale-Santa Clara CA: annual average salary of $57,820
The highest paying non-metropolitan areas are:
Southeast Alaska: annual average salary of $55,260
St. Mary's County Maryland: annual average salary of $54,020
Railbelt: annual average salary of $52,990
Southwest Alaska: annual average salary of $52,990
North Valley Region of California: annual average salary of $52,030
Mother Lode Region of California: annual average salary of $51,540
Eastern Connecticut: annual average salary of $51,480
Highest paying industries for LPN salary are:
Insurance carriers: annual average salary of $48,450
Development services and scientific research services: annual average salary of $45,950
Drug stores and pharmacies: annual average salary of $45,820
State-owned secondary schools and elementary schools: annual average salary of $45,360
Employment services: annual average salary of $45,060
Outpatient care centers: annual average salary of $44,040
Offices of speech therapists, physical therapists and occupational therapists: annual average salary of $43,990
Home health care services: annual average salary of $43,920
Office administrative services: annual average salary of $43,910
Privately owned specialty hospitals: annual average salary of $43,890.
How does LPN salary compare to the salaries of related careers
Director of nursing services: annual average salary of $71,310
Nurse consultant: annual average salary of $68,530
Nurse specialist: annual average salary of $66,790
Registered Nurse: annual average salary of $65,470
Clinical nurse: annual average salary of $48,000
Public health nurse: annual average salary of $46,240
Licensed practical nurse $42,400
Physical therapist aides and assistants: annual average salary of $39,430
Medical assistants: Average annual salary of $32,010
Orderlies and nursing assistants: annual average salary of $24,400
As you begin your licensed practical nurse career, you should recognize that your salary will be commensurate with your experience, industry of work and level of education. In fact, as you grow your career, you will always have the opportunities for further training and education and for becoming a registered nurse or joining other high-paying specialties in the nursing industry.
LPN Requirements
Return to top of page >
The Licensed practical nurse is at the entry-level of the nursing profession. They use their skills and knowledge to care for the injured, disabled, convalescent and sick members of society, under the supervision of registered nurses or physicians and in structured care settings. If you want to be one, you are required to:
Be 18 years and above
Hold at least a GED or a high school diploma
To pass drug usage test
To pass criminal background checks
To join and complete an LPN training program
To obtain a license after your training.
These requirements should be blended with strong interpersonal skills, acute attention to detail, abundance of patience, excellent communication skills and a good physical condition to make you succeed in the career.
Career Outlook for LPNs
Return to top of page >
According to the Bureau of Labor statistics, the number of LPN jobs will increase by 25% between 2015 and 2025. Today, there are over 860,000 in the USA and the figure is expected to go past the 1.2 million mark by 2025. The new jobs are attributed to increased number of people who are retiring and requiring routine health care. There are also increased numbers of people who are diagnosed with obesity, metabolic disorders and diabetes. These people require continuous care. In fact, new jobs are not just available in hospitals and physician offices, but they have also increased in private homes and nursing homes across the U.S.
How to find a Licensed Practical Nurse Job
Once you complete your training and pass the licensure examination, the hard work of finding an LPN job will begin. Before anything else, however, you should build your resume to reflect your training, skills and experience. Your resume must contain your contact information, LPN objective, LPN education credentials, LPN work experience, certifications, professional memberships, volunteer experience, languages spoken and honors or awards received. Once all the information is supplied, the resume should be properly formatted in readiness for job search.
Once you have your resume and cover letter, make sure to search widely for job openings and to send as many applications as you can. You should conduct your job search both offline and online. When you go online, you can rely on the following job boards for the latest job listings:
Nurse.com
HEALTHeCAREERS
Medhunters
MDJobsite
Medzilla
PracticeLink
Indeed. Com
CareerBuilder.com
Nursing jobs.com
Nursezone.com
Take advantage of all your contacts in the health care sector to know about jobs. For instance, you should call your former instructors, supervisors and classmates and request them to alert you as soon as there are job openings in their hospitals or nursing homes. Visit nursing homes and check their notice boards; speak to nursing home directors; check out newspapers and job forums; and attend meetings such as seminars and conferences attended by influential nurses. And as soon as you know of a job vacancy, prepare your resume and send your application in time.
When you are called for a job interview, make sure to research your potential employer in advance. You can check the company's website to know what they specialize in and the kinds of patients they attend to. Also find out what they do in that organization and how you can excel in the same position. After you do your research well, you should formulate the questions you expect to be asked and practice answering them. On the day of the interview, make sure to dress well and to carry a copy of your resume and all your relevant credentials. Remain confident during the interview and make sure to answer questions appropriately. The interview is the make-or-break step in your career and you should give your best performance possible.