If you are interested in a career in healthcare, it helps to get advice from people who have already been there. Luckily, there's a wealth of experience on offer from blogger's who have already forged their way through the health care career jungle, and helped countless others do the same.
By following these 15 bloggers you'll not only fast-track your career, but you'll also help yourself become the best you can be in your chosen healthcare career.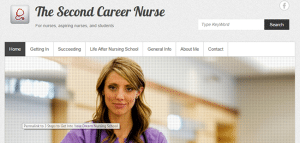 Dylan Green of The Second Career Nurse is someone who knows how to succeed in nursing. He applied, and was accepted to, every direct entry nursing program in California, so has a deep knowledge of the techniques that you need to put yourself above all the other applicants and be successful in the admission process. If you want to emulate his success, check out his The Second Career Nurse blog.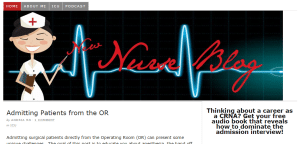 Andria's New Nurse Blog provides great insights into the intangible factors when it comes to succeeding in nursing. An invaluable resource for a graduate commencing a career in health care.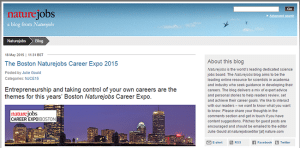 If you're interested in the science-side of health careers, Nature Jobs is the blog for you. Run by editor Julie Gould, Nature Jobs is a leading resource in science academia and industry, helping people advance their careers and achieve their goals.

Nurse Keith is an RN and a self described "nurse-entrepreneur" who writes interesting posts for savvy 21st-century nurses and healthcare professionals. For advice on how to get ahead in modern nursing, Keith is your man.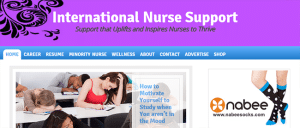 International Nurse Support is one of the leaders in Health Career Blogging. It's run by Joyce Fiodembo, who has over 20 years of nursing experience under her belt. From  general floor nurse to operating room nurse to flight nurse, Joyce uses her experience and industry knowledge to help you succeed in your health career.

An accomplished nurse and author, Kathy Quan offers invaluable advice to advance your career in nursing. Just like her book The Everything New Nurse Book which helps new nurses transition from nursing school to bedside nursing, Kathy and her blog will guide you through the nursing career jungle.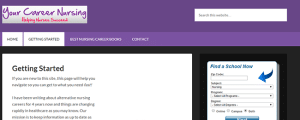 Tina Lanciault provides an array of alternative nursing career options, including nursing informatic jobs, cruise ship nurses and nurse-entrepreneurs. Her blog will open your eyes to the many nursing jobs you've never thought of, but would love to have.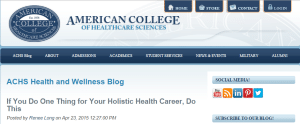 The American College of Healthcare Sciences is a leader in holistic health education through comprehensive professional online and on-campus education. Their blog is focused on providing insights into gaining and progressing a career in holistic health, but is a valuable career resources for anyone in the health industry.

As well as writing for her own blog, Donna Cardille is also an expert blogger at DrOz.com and was formerly the  Healthcare Careers Expert at Monster.com. As a nurse and multi-book author, Donna has been provided inspiration to many nurses who want to advance their career.

Dr. Renee Thompson has more than 23 years healthcare experience including clinical practice, nursing education, quality management and executive leadership. She uses this unique experience and skill set to help healthcare workers in the workforce, focusing on improving clinical and professional competence, eliminating nurse-to-nurse bullying, effective communication and leadership, building a positive and healthy workplace, and nurturing a culture of respect.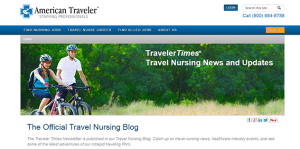 The travel nursing blog follows trends in healthcare staffing, the best places to work, the best-paying jobs, and any industry updates that affect travel nurses. If you're just starting to look into travel nursing, this is a great place to begin.

Leslie Block and ER Nurses Care provide a wealth of valuable advice for current and prospective nurses. It also covers areas such as injury prevention and healthy living.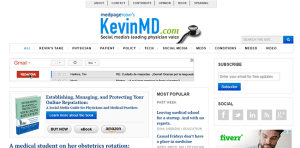 Founded by Kevin Pho, MD, Kevin MD is one of the broadest Healthcare Career blogs. With over 1,500 authors including front-line primary care doctors, surgeons, specialist physicians, nurses, medical students, policy experts, KevinMD is an essential and enlightening read to anyone looking advance their Healthcare Career.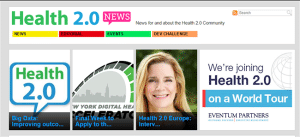 Technology is becoming an integral part of all industries, particularly health care. Health 2.0 plays a strong role in that space as it's the premiere showcase and catalyst for the advancement of new health technologies. Health 2.0 will keep you in touch with how technology is evolving your healthcare career.

Kevin Ross and The Innovative Nurse is THE place for all of those ultra-savvy nurses out there that are looking to elevate their nursing practice. It covers a lot of content that other blogs don't, such as how to create  your personal and professional brand, something that is a necessity in this day and age.
Wrapping Up:
There you have it, 15 fantastic resources for health career information! Be sure to stop by the sites, follow them on social media and stay up to date with the information provided. Best of luck with your health career!