Can you become a certified medical assistant online?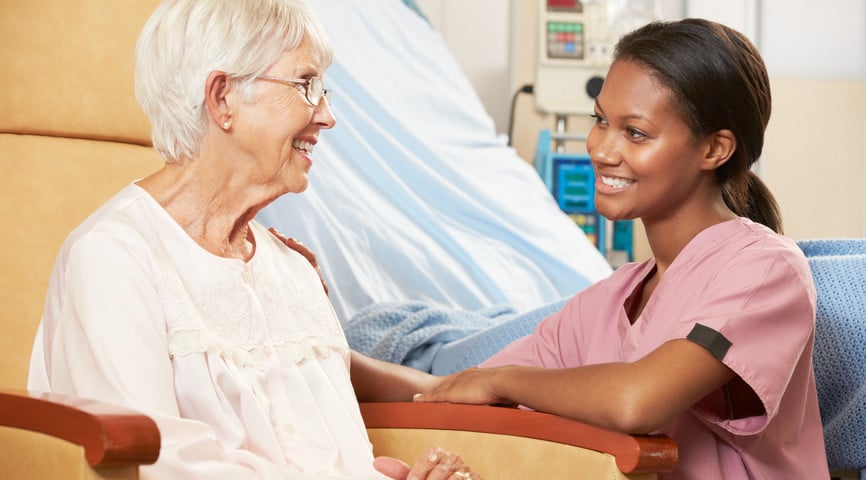 Online medical assistant training is available through a number of community colleges and career schools.
Medical assistants perform a combination of clinical and administrative duties in healthcare settings. Aspiring applicants may choose to enroll in an academic program that provides them with the knowledge and skills necessary for the field. These programs usually result in a certificate, diploma or an associate degree and are commonly offered online.
Here are a few of the benefits that you could experience by becoming a medical assistant.
Great pay – With proper medical assistant training, one can land a high paying job quickly. Medical assistant profession is an in-demand career.
Growing field – When you look around you will notice that there are a lot of sick people. The population is also aging and they will require more and more medical attention. With this in mind, a person who wants a solid long term outlook for his/her career should consider a career as a licensed medical assistant.
Versatile environment – Medical assistants are responsible for a variety of tasks depending on the health care facility where they work. Medical assistants can do administrative tasks, which are handled on the office side of a health care facility, or clinical tasks, which involve direct patient care in a medical setting.
What Type of Online Training Do Medical Assistants Receive?
Medical assistants often complete course work in medical related fields. These courses include laboratory procedures, examination techniques, surgical procedures, clinical aspects of coding and billing, first aid, anatomy, medical law, insurance practices and more. Applicants also must be proficient in computers and have extensive knowledge of Microsoft Office programs.
Medical assistants programs usually take six months to two years, depending on whether the applicant wishes to complete a certificate, a diploma or an associate degree.
For certification purposes, applicants should look for online programs that are accredited by the Accrediting Bureau of Health Education Schools (ABHES) or the Commission on Accreditation of Allied Health Education Programs (CAAHEP). Applicants enrolled in accredited medical assistant schools usually become proficient in performing basic procedures, collecting specimens, administering diagnostic tests and caring for patients.
Why Take Medical Assistant Classes Online?
Flexibility – A student can usually take the course any time during the day or week. The precise time to take the class usually depends on the student's desire. The flexibility of the program makes it possible for an individual to complete the program, while attending college in-person might be impossible due to their work schedules.
Cost – Online programs can be less expensive than traditional programs, particularly if you are having problems financially. You can save money on books, transport, and possibly even food by living at home and continuing your present lifestyle instead of paying extra to move to a college or to drive to one.
Online communication – Instructors can be friendlier in the online setting. Applicants may feel more comfortable talking openly with their instructors through emails, online chats, and newsgroup discussions rather than face to face. Online communication also cuts out having to wait for office hours that may not be convenient for either party.
Improve your technical skills – Even the most basic online program requires the development of new computer skills, as applicants learn to navigate different learning management systems and programs.
How much does a medical assisting school cost?
The decision to enroll into a medical assistant program can lead to a rewarding career path. The costs depend on the duration of the program and the type of degrees or certificates offered. Courses offered at private online colleges can last from a few weeks to several months, and the average costs are between $1,200 and $4,200 for tuition, plus the cost of textbooks, supplies, and other miscellaneous fees.
Medical assistant is also offered as a one year certificate program at many community colleges. Depending on the number of courses taken, the costs are around 800 dollars to 1,000 dollars per semester. For a 2-year associate's degree in medical assistant, the average tuition fee is about 2,250 dollars.
Medical Assistant Job Outlook
The career outlook for medical assistants is very promising. The Unites States Bureau of Labor and Statistics lists medical assistant as one of the professions expected to experience tremendous growth over the next decade.
Employment opportunities in this occupation are expected to grow by at least 34 percent through 2018. As the field of health care advances and an aging population creates an increased need for health care services, this growth is likely to continue for several years to come.
Online Medical Assistant Schools
Keiser University: Keiser University offers an associate of Applied Science degree in medical assistant. The program combines general education courses and core medical assistant classes.
Herzing University: Herzing University offers both an associate of science degree and a diploma in medical assisting. The diploma course takes around 12-20 months to complete while the associate degree takes 2 years.
Penn Foster Career School: Penn Foster medical assistant associate's program is accredited by the Accrediting Bureau of Health Education Schools and qualifies students to sit for both the Certified MA exam and Registered MA exam.
Ultimate Medical Academy: Ultimate Medical Academy offers a diploma of medical assisting. This program prepares applicants to handle medical records, medical billing, and work as an administrative medical assistant. The program takes about 18-months to complete and graduates may sit for certification exam through the National Health Career Association.
Liberty University: Liberty University's Associate of Applied Science- Medical Assistant program prepares applicants for an occupation as a medical assistant in several healthcare settings such as hospitals, physician offices, and clinics. Program course include introduction to health professions, medical terminology, medical office billing and bookkeeping, medical office systems and procedures, and more.
Conclusion:
Making time to go to a university and earn a diploma or degree is hard for some. Several working adults have full time jobs and families, while some high school graduates may have to work full time to pay for college.
Online learning allows you to earn your certificate, diploma or degree in between other life responsibilities. Online medical assistant programs are disciplined, short programs designed to train you as a flexible medical professional.