The reality behind TV nurses: A look at nursing roles and responsibilities, from Nurse Bokhee to Nurse Jackie.
You've seen them running down the hospital halls, looking effortlessly put together as they shout, "Stat!" or "Code blue!" TV nurses are the witty and brave underdogs on every show – world-class surgeons fall in love with them and they're the real people who save the patients because they were paying the most attention.
Yet, what do they really do? How much would they make in real life? Are real nurses like these amazing scrub-wearing saints? From the character, Nurse Morgan Tookers on "The Mindy Project," to Nurse Carla Espinoza on "Scrubs," these TV nurses are inspired by real jobs in the nursing field.
1. Nurse Carol Hathaway (ER)
Nurse Hathaway, from television's most beloved hospital drama, "ER," changed how viewers see nurses. She gave a more realistic portrayal of what it means to be a nurse; along with the issues they face like "floating" to different hospital units and how insurance policies affect patient care. Hathaway even got promoted to Nurse Manager, a role that commands $92,268 a year (well worth her leadership skills in the ER).
2. Nurse Bokhee (Grey's Anatomy)
Second on our list is Nurse Bokhee, the longtime scrub nurse on "Grey's Anatomy." What's special about this TV nurse is she has been in every season of the TV show, and the actor who plays her, is a retired scrub nurse in real life. Though she has few lines, she's a good example of a Perioperative Nurse, who begins as a registered nurse and later specializes in surgical units. Scrub nurses make $69,727 a year.
Get Your Degree!
Find schools and get information on the program that's right for you.
Powered by Campus Explorer

3. Christina Hawthorne (HawthoRNe)
In the medical drama, "HawthoRNe," Chief Nursing Officer, Christina Hawthorne is another example of a leader in the nursing field. Basically, this RN is the president of the hospital nursing staff and must run the nursing staff, budget, and work with other executives of the hospital like a business. This is a step above a Head Nurse. A master's degree or doctorate is required for this type of executive role. CNOs make about $109,018 a year.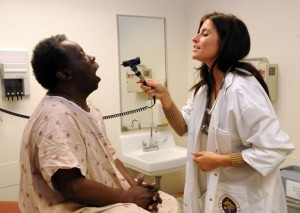 4. Nurse Morgan Tookers (The Mindy Project)
The demand for nurses is so high that the number of male nurses has tripled since 1970. This change to the profession is reflected on many TV shows, including "The Mindy Project," where Nurse Morgan Tookers is an Obstetrics Nurse. OB Nurses help patients through pregnancy and childbirth, and they make about $64,728 a year. They assist OB/GYN physicians with patients' fertility treatments; prenatal and postnatal checkups; and some specialize in labor and delivery. Though they probably aren't as involved in doctors' lives like Nurse Tookers is with Dr. Lahiri.
5. Jesus Valasquez (True Blood)
Next up, we have another male nurse. This time from the show, "True Blood." Jesus Velasquez was a compassionate Psychiatric Nurse, who worked with patients in a mental health facility. Though his magical powers got in the way of his medical training, he still helped patients deal with psychological trauma, psychiatric disorders and provided therapy as a RN who specializes in psychiatry. Nurses who work in this field make about $68,518, though if you practice magic, you'll probably have a tough time landing a job.
6. Major Margaret Houlihan (M*A*S*H)
Now we're going to take it way back in TV history. Major Margaret Houlihan, who is also known as"Hot Lips" Houlihan, was featured in the hit TV show "M*A*S*H." As a Surgical Army Nurse during the Korean War, she fixed up patients at 4077 Mobile Army Surgical Hospital. While there, she also got mixed up in a love triangle (hence the nickname). Nowadays, surgical army nurses make competitive salaries and the military will pay for your bachelor's degree or provide student loan forgiveness when you enlist in active duty or the reserve.
7. Nurse Jackie Peyton (Nurse Jackie)
Perhaps the most controversial nurse on our list is Nurse Jackie Peyton of "Nurse Jackie." Despite her drug addiction and lack of morals in her personal life, this show does the best job of portraying nursing skills as a Trauma Nurse at All Saints' Hospital in NYC. From juggling patients in the ER and helping doctors stay on top of trauma care, to keeping patients alive and comfortable, it's no wonder these staff nurses are some of the most talented in the hospital. They make about $67,494 a year.
8. Nurse Carla Espinoza (Scrubs)
On "Scrubs," Nurse Carla Espinoza was the Head Nurse for Sacred Heart Hospital. While a Head Nurse can also be considered a Nurse Manager, Espinoza's administrative role meant she managed the entire hospital's nursing staff. A job like this requires an advanced degree like a bachelor's or master's in nursing. For more prestigious hospitals, a MBA in healthcare administration may be required. Salaries for this position vary depending on the size of the hospital.
Now that you know what the real jobs are behind these famous TV nurses, you can start thinking about your own nursing career – or just go binge-watch your favorite hospital show!
Source: Salary data from Salary.com and PayScale.com.
Find local and online Certified Nursing Assistant programs below. It's fast and free.