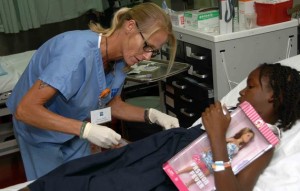 Where to find CNA jobs
Congrats you're a certified nurse assistant! Check out these different places you can find cna jobs.
Alright, so you're certified and ready to be a CNA. One problem: you need a cna job and you're not sure what type of work environment will work best for you. Stop stressing! We're going to breakdown all the different places you can work with the type of patients in each setting. (We know some of you out there are terrified of babies or the elderly.)
The short answer is, you can work anywhere as long as there's a licensed nurse who is managing you. However, let's run through all the different types of places and people you can care for as a CNA.
Hospitals
While this one is a no-brainer, you'd be surprised to find that some hospitals have training programs for nursing assistants, and may pay for students' tuition if they work with the hospital after their training is complete.
If you plan to complete a nursing program to become a registered nurse (RN), find out if a hospital near you has a hospital-based nursing program. These programs work with nearby colleges so you can have direct contact with a hospital for experience and can complete your classroom curriculum at the college.
In terms of patients, you're going to work with a full-range of people from babies to very old people at hospitals. Hospitals are in-patient facilities, so you will spend more time with patients in a hospital than an outpatient clinic.
Medical Clinics
There are a wide variety of medical clinics hiring foe cna jobs. Medical clinics are outpatient facilities where you deal with patients of any age who receive short-term treatment. Choose a clinic based on your interests and the type of patients you seek to help. Clinics can be publicly or privately owned.
Free clinics are for walk-in care of low-income patients. Most free clinics are staffed by nurse practitioners.
General outpatient clinics can run tests and keep patients overnight. These clinics serve primary health care services that are non-urgent.
A specialist clinic will care for patients with specific needs, some examples include: sexual health clinics, which treat sexually transmitted infections; fertility clinics, which provide treatment to those seeking to get pregnant; abortion clinics, which is for those who don't want to be pregnant; and ambulatory surgery clinics, which offer same-day surgery treatment.
Urgent Care Centers
These facilities are best for those who work well in fast-paced environments and want to work with a variety of patients. Urgent care centers are alternatives to hospital emergency rooms. CNAs who work at these facilities work with emergency medicine physicians and trauma nurses. The centers are open seven days a week, have diagnostic equipment and treat many types of illness and injuries that are less severe than typical emergency room cases.
Doctor Offices & Private Practices
If you'd like to work with fewer patients and have more standard work hours, working for a doctor's office or private practice may be the best fit for you. You can seek our primary care offices or see if specialists need CNA jobs on their staff, it that's something that interests you. Private practices will also have a range of ages in their patients. We're guessing these jobs are pretty competitive and go to more experienced staff, but it's worth a shot!
Day Care Centers
If you like kids and prefer to not work with adults, working for a day care center might be the right option for you. Pediatric CNAs often work for facilities with children who have disabilities.
Nursing Homes
Did you know that nursing homes are the only facilities required by federal law to hire certified nurse assistants? Yep, many other health care facilities hire CNAs, but they don't have to by law. Nursing facilities are also required to pay for students' tuition if they've been hired.
Keep in mind that nursing homes are facilities that provide on-going in-patient care to the elderly 24/7. Check your state's CNA laws regarding patient to nurse ratio. In some states, CNAs are allowed to care for too many patients at once, which can be difficult and reduce the quality of care for the elderly patients.
Home Health Care
One-on-one care is the name of the game for certified nurse assistants who work in home health care.  You can forget the hustle and bustle of the hospital or urgent care facilities with a job in home health care. The downside? You're going to work with a few select patients for prolonged periods of time. In some cases it will be until they recover or pass away. Home health care CNAs also deal with family members more than CNAs in other medical settings.
Assisted Living Facilities
If the constant care of a nursing home or home health care setting intimidate you, an assisted living facility might be a better option. You get to care for the elderly, but these folks are more active and less dependent on the nursing staff.
Hospices
Some people have a gift for taking care of people at the end of their life. For those who have a lot of patience and compassion, working at a hospice will be very fulfilling as you care for people on their deathbeds. Working at a hospice can be emotionally taxing because you are working with terminally ill and elderly patients, but it can also be very rewarding as you keep patients comfortable during their final days.
Now that you have a clear perspective of all the medical environments where CNAs can work, you can start your job hunt!