A complete guide on CNA jobs, CNA classes online and CNA salary info. Learn how to find CNA schools near you and earn your certification.
CNAnursing Quick Facts
| | |
| --- | --- |
| Average Salary | $26,020 (annual), $12.51 (hourly) |
| Education Required | 0-1 year (certificate) |
| Job Outlook | Outstanding (21% growth in next 10 years) |
| CNAnursing's Take | Great entry into nursing profession. Must have patience. |
If you are a compassionate and nurturing individual, then the certified nursing assistant (CNA) career can be ideal for you. Also known as State-Tested Nursing Aides (STNAs), Nursing Assistants (NAs) or Patient Care Assistants (PCAs), CNAs are professionals who help patients with basic healthcare needs, often under the supervision of registered nurses, licensed practical nurses and other healthcare professionals.
CNA Classes and Schools
What should you consider when choosing a certified nursing assistant school?
The school's programs must meet the state certification requirements
The programs must be approved by the State's Board of Nursing
The school should have enough teachers, resources and an appropriate environment for learning practical skills
The school should be supportive to students as they prepare for the certification exams
The school's program should be flexible enough to accommodate your personal and educational needs
The program cost should be within your reach
An ideal cna program should offer classes in:
Anatomy and physiology
Medical terminology
Body mechanics
Mental health care
Patient Rights
Nursing Skills such as restorative care, basic medical procedures, critical observation, infection control and communication
Find local and online Certified Nursing Assistant programs below. It's free!
Get Your Degree!
Find schools and get information on the program that's right for you.
Powered by Campus Explorer
Once enrolled in these programs, students learn basic nursing skills, clients' rights, effective communication skills and personal skills. The certificate programs take 6-12 weeks and students complete between 6-10 credit hours per week. Besides, the programs vary in scope from one school to the other and the students need to ensure that they are enrolled in comprehensive programs that can help them pass the certification exams and prepare them for on-job challenges of nursing assisting.
Typically, certified nursing assistants only need certificates earned after attending post-secondary education programs to practice as nurse aides. A certificate program is a short program that focuses on the technical and practical skills needed for a job. The programs are offered in community colleges, hospitals, nursing homes and vocational schools.
Some Top CNA Schools
1. West Los Angeles College
Culver City, CA
2. Harper College
Palatine, IL
3. Front Range Community College
Westminster, CO
4. Allen School
Brooklyn, NY
5. Washtenaw Community College
Ann Arbor, MI
6. Davis Applied Technology College
Kaysville, UT
7. Johnson County Community College
Overland Park, KS
8. Madison Area Technical College
Madison, WI
9. Healthcare Training Institute
Union, NJ
10. City Colleges of Chicago – Kennedy – King College
Chicago, IL
How much will you pay for your certified nursing assistant training? Typically, on-job training can be free, but the medium cost for nurse aide programs range between $200 and $350 (in 6-12 weeks programs) while the highest costs range from $825-1200. Hospitals usually offer training to nursing assistants at no cost and aspiring students should check with their local area hospitals for such opportunities. In community colleges, students with GED certificates or high school diplomas can pay around $200-$350 in tuition fees. In vocational schools and online CNA programs, students pay between $825 and $1,200. Aspiring CNAs may also be charged additional $50-270 for state certification exams, $50-100 for books and supplies, $30-45 for uniforms, $35 for fingerprint services and $50 for First Aid and CPR.
Since the training programs can be highly expensive, it is essential to explore various ways of reducing the cost of training. Some crucial ways include:
Taking your certificate training program for free in a local hospital
Applying for federal loans, which are usually offered at low interest rates and with flexible repayment schedules
Government grants: If you can demonstrate your financial need, then you can be given a significant amount of money in grant to pay your fees.
Scholarships: Check with your school's financial aid office for any scholarships for which you are eligible.
Friends and family: You can borrow money from friends or rely on the support of family members to pay your fees.
CNA Class Online Options
Depending on where you live, you might be able to complete your studies online. Each state has different requirements when it comes to the number of hours of hands-on, clinical training you must complete before you take the competency test and become licensed. Obviously this clinical training would be difficult to complete online, but online CNA theory training is often the best bet for busy students like you.
Are Online CNA Programs right for you?
First, it's always important to check out your state's requirements. Before you jump into an online CNA program, you need to make sure that program adheres to your state's CNA guidelines. To do this, check out your state's Department of Public Health website. Here you will be able to find any information you need on CNA certification guidelines and CNA training programs in your area. You'll also be able to find out which online programs have been approved and contact a state public health official that can answer any questions you might have.
CNAnursing Expert Tip: Check out this short video about one of your CNA duties

What you'll need to succeed online:
In order to take advantage of online CNA courses and distance learning, you'll need:
Access to a reliable computer capable of accessing the Internet
Access to a high-speed Internet connection
Baseline Internet navigation and word processing computer skills
Time management and self-motivation skills
If you can check all of these requirements off the list, it's time to take a look at the benefits you'll see from online CNA programs.
The benefits to taking CNA Classes online:
Anyone who's ever taken online classes will tell you there are a ton of benefits to distance learning. These benefits include:
Flexibility:Students are busy these days. Work, family, travel, community responsibilities, and other classes can all interfere with a typical course schedule. With online classes however, you can study for tests, complete your coursework, and chat with other students on your own time.
Access: With online courses, you'll have access to class materials including lectures, discussions, assignments and test prep, 24 hours a day.
Learn at your own pace: Online classes let you decide which sections to spend your time on. Do you need some more time on medical terminology? No problem, the class travels at your pace so you can take all the time you need.
Savings:The time and money you'll save by not having to drive to a traditional classroom is nothing to sneeze at. Car repairs and gas prices add up.
Taking Online Classes: What to look for:
To get the most out of your online experience, it's important to find out of if the online CNA classes you're interested in line up with your goals and, maybe more importantly, your state's requirements. When evaluating online programs, take a look at:
Accreditation: Find out if the school you're considering is accredited. Basically accreditation means that the program is reputable and will be recognized by your state's licensing board. Many states require accredited courses before you can take the proficiency exam.
Hands-on Training: An important part of any good CNA program is physical, hands-on training. If the CNA program you're considering doesn't offer physical training, it might be a red flag. Many states require hands-on training to become licensed.
State Approval: CNA terminology can be confusing. Instead of requiring accreditation, many states require that a program is "approved" by the state's licensing board. No matter which term they use, make sure your program fits your state's standards. If they don't, you might take an entire course then be prohibited from taking the licensing exam.
CNA Jobs and Career Outlook
Return to top of page >
The last 10 years (2004 to 2014) have seen an impressive growth in CNA jobs. The rate of job increases was 21-percent in 2004 and rose to 35-percent in 2014, resulting in approximately 516,000 new CNA jobs in the country. The number of nursing assistant jobs is expected to grow by 20-percent in the next decade (2014-2024), which is faster than the expected national average. According to the U.S. Bureau of Labor Statistics, the expected growth in CNA jobs is a response to the growing elderly population that is in need of long-term care needs. In fact, many more new jobs will be created in nursing homes and community care facilities for the elderly. Another reason for the growth in CNA jobs is technological and scientific advances which make outpatient and home-based care tenable and which help to boost the lifespan of the general population.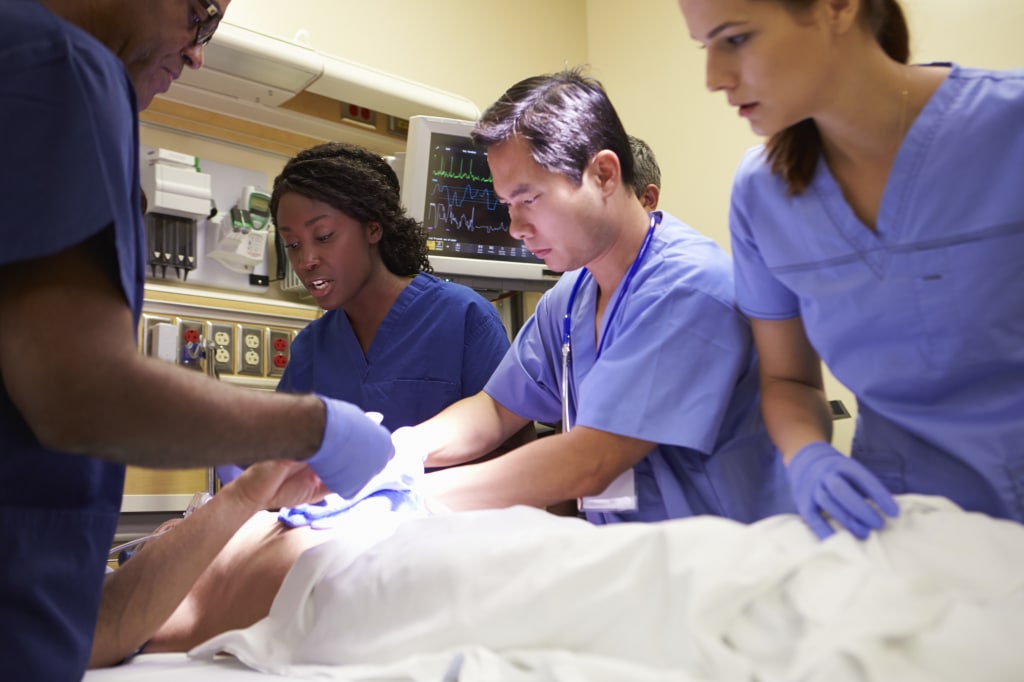 Today, the demand of nursing assistant services has increased as insurance agencies and hospitals move more of their long-term care into private homes and nursing homes to reduce the cost of healthcare. The agencies are using more nurses and nursing assistants to deliver the necessary routine care to the elderly patients in their homes with the help of new medical technologies. Moreover, the limited advancement opportunities and the relatively low pay for nursing aides is causing a very high turnover as many CNAs leave their jobs in pursuit of higher formal training and employment. This results in more opportunities for graduate CNAs who have achieved the right training and obtained their state's certification requirements. Indeed, based on these projections, the nursing aide job outlook should be impressive for students and individuals with interest in the field.
So how can you get a CNA job? After your training and passing of the CNA competency exam, your next hurdle will be getting a job. In order to land the job quickly, you will need to:
Conduct thorough research: Before, during and after your training as a nursing assistant, you should find out all the facilities in your locality that hire NAs, including doctor offices, nursing homes, clinics and hospitals. Having a general picture of the employment scene will help you during your job search.
Be flexible: Patients need care for 24/7. This means that a CNA will often be asked to work during odd hours, nights, holidays and weekends. When you demonstrate to your employer that you can work during odd hours, you will stand-out among the many applicants.
Craft a telling resume: Your resume and cover letter will be the only tools to stand for you during short-listing. If your resume is not good enough, you will not get many opportunities for interviews. Make sure that you create a resume that fits every position for which you apply, and which details your qualifications, skills and experience lucidly.
Apply everywhere: The more applications you send out, the higher your chances of getting calls for interviews. You should never get tired of sending your resume and cover letter out on any opportunities. Just send because your luck will knock.
Volunteer: If you have completed your training and received certification but still does not have a job, you should volunteer your services to a nearby care center. Volunteering will not only give you valuable experience, but will also give you the opportunity to interact with potential employers, build new contacts and know when new jobs are available.
When searching for CNA jobs, you should follow the steps below to be more successful:
Notes of Networks: The first step in a successful CNA job search should be listing down the names of acquaintances, former classmates, tutors and supervisors who may help you with information on how to secure a job. Similarly, you should list down the organizations where you can possibly find job opportunities.
Use the internet: The internet has become a critical tool in the CNA job search. By typing the right keywords in the search engines, you can easily know when there are new job openings. Likewise, it is essential to register in websites, forums, blogs and newsletters that provide information on the latest CNA jobs.
Check out nursing job boards: There are several nursing assistant sites that post the latest jobs. Checking out these sites can allow you to know of and apply for a certified nursing assistant job as soon as it is advertised. Some of the job boards include:
Prepare and send your resume and cover letter: You should take your time to produce an appealing, descriptive and error-free resume and cover letter to send to your potential employer as soon as you locate a job opportunity.
Prepare well for interviews: The interview can make or break your employment chances and you should not take it for granted. Make sure to review your course content, to look back at your practical experience in clinical settings and to research the history and operations of your potential employer. Also make sure to read some interview tips and to prepare yourself with answers for the most frequently asked questions. A successful performance in an interview will help you to get your coveted certified nursing assistant job.
CNA Salary
Return to top of page >
The nursing assistant position holds good prospects for employment and wages. The average annual salary for a CNA is $30,020. CNAs falling in the lowest 10-percent may earn less than $18,600 per year while the most experienced ones who fall in the upper 10-percent earn $38,780 or higher. Owing to increasing aging population, the CNAs have been on high demand and their salaries have been growing steadily.
CNAnursing Expert Tip: Find your state below to see how much CNA's get paid on average hourly/yearly.
| State | Average Hourly | Average Yearly | Current Employment |
| --- | --- | --- | --- |
| Alabama | $10.38 | $21,590 | 21030 |
| Alaska | $17.04 | $35,440 | 2110 |
| Arizona | $13.41 | $27,890 | 15380 |
| Arkansas | $10.23 | $21,280 | 18150 |
| California | $14.38 | $29,910 | 97420 |
| Colorado | $13.52 | $28,120 | 17200 |
| Connecticut | $15.36 | $31,950 | 21860 |
| Delaware | $13.28 | $27,630 | 5250 |
| District of Columbia | $14.29 | $29,730 | 3690 |
| Florida | $11.48 | $23,870 | 85910 |
| Georgia | $10.54 | $21,910 | 37430 |
| Guam | $11.74 | $24,420 | 100 |
| Hawaii | $14.32 | $29,780 | 5390 |
| Idaho | $10.93 | $22,730 | 7520 |
| Illinois | $12.18 | $25,340 | 61200 |
| Indiana | $11.25 | $23,390 | 31940 |
| Iowa | $12.17 | $25,310 | 23680 |
| Kansas | $11.11 | $23,110 | 19310 |
| Kentucky | $11.20 | $23,290 | 24350 |
| Louisiana | $9.93 | $20,660 | 23140 |
| Maine | $11.83 | $24,610 | 9480 |
| Maryland | $13.89 | $28,880 | 26780 |
| Massachusetts | $14.43 | $30,010 | 40980 |
| Michigan | $12.72 | $26,460 | 52090 |
| Minnesota | $13.20 | $27,450 | 29690 |
| Mississippi | $10.02 | $20,830 | 15150 |
| Missouri | $10.97 | $22,820 | 41340 |
| Montana | $11.93 | $24,810 | 5300 |
| Nebraska | $11.89 | $24,730 | 13350 |
| Nevada | $15.45 | $32,130 | 4770 |
| New Hampshire | $13.73 | $28,550 | 8410 |
| New Jersey | $13.51 | $28,090 | 49640 |
| New Mexico | $12.51 | $26,010 | 5670 |
| New York | $15.45 | $32,130 | 99820 |
| North Carolina | $10.99 | $22,860 | 50990 |
| North Dakota | $13.49 | $28,070 | 6980 |
| Ohio | $11.87 | $24,700 | 69390 |
| Oklahoma | $10.49 | $21,820 | 17270 |
| Oregon | $13.32 | $27,720 | 11200 |
| Pennsylvania | $13.39 | $27,850 | 74520 |
| Puerto Rico | $10.35 | $21,520 | 890 |
| Rhode Island | $13.82 | $28,750 | 9870 |
| South Carolina | $10.69 | $22,240 | 18400 |
| South Dakota | $11.18 | $23,250 | 6300 |
| Tennessee | $11.11 | $23,110 | 28860 |
| Texas | $11.45 | $23,810 | 86630 |
| Utah | $11.11 | $23,110 | 9920 |
| Vermont | $13.01 | $27,060 | 3050 |
| Virgin Islands | $11.11 | $23,110 | 150 |
| Virginia | $11.63 | $24,190 | 37360 |
| Washington | $13.87 | $28,850 | 24410 |
| West Virginia | $10.79 | $22,440 | 7750 |
| Wisconsin | $12.61 | $26,230 | 37240 |
| Wyoming | $13.34 | $27,750 | 3270 |
While the numbers of nurse aide jobs keep growing, the salaries earned by CNAs depend on a number of factors, including experience, certification, location and industry. For instance, experienced CNAs have more prestige in the field because of their wealth of knowledge and practical capacity. Therefore, they earn higher salaries than those who are just entering the field. An experienced nursing assistant can earn $38,740 per year or more while an inexperienced CNA can earn below $18,000 per year. Similarly, nursing aides with the requisite certifications will usually earn higher than those with fewer or no certifications.
Equally, industries that absorb highly skilled nursing assistants, such as research and development services, the Federal Executive Branch and other industries, usually pay at least $24,650 per year to CNAs. CNA salaries also vary according to the location of the nurse aide. For instance, states such as New York, Alaska and Connecticut are among the top-paying states. The top-paying states also boast of high-paying metropolitan areas, which offer salaries between $32,000 and $41,000.
Top 5 States by CNA Salary
Alaska with average annual salary of $34,990
New York with average annual salary of $31,840
Connecticut with average annual salary of $31,660
Nevada with average annual salary of $31,270
District of Columbia with average annual salary of $30,300
Top 5 Metropolitan Areas
San Francisco-Redwood, CA with average annual salary of $41,010
Fairbanks, AK with average annual salary of $36,840
San Jose- Sunnyvale- Santa Clara, CA with average annual salary of $36,210
Nassau-Suffolk, NY with average annual salary of $36,000
Oakland-Freemont-Hayward, CA with average annual salary of $34,890
Top 5 Industries By CNA Salary
Federal Executive Branch with average annual salary of $37,920
Universities, Professional Schools and Colleges with average annual salary of $34,410
Scientific Research and Development Services with average annual salary of $32,680
State Government with average annual salary of $32,120
Insurance Carriers with average annual salary of $31,649
Top 5 States with Highest CNA Employment Levels
California with over 110,400 jobs per year and average annual salary of $29,170
New York with over 109, 200 jobs per year and average annual salary of $31,840
Texas with over 96,860 jobs per year and average annual salary of $23,150
Florida with over 94,750 jobs per year and average annual salary of $24,080
Pennsylvania with over 81,460 jobs per year and average annual salary of $27,290
Comparing CNA Salary to the Salaries of Related Careers
Medical Assistant earns an average annual salary of $29,370
Coding Specialist/Medical Billing Expert earns an average annual salary of $34,160
Pharmacy Technician earns an average annual salary of $29,320
Health Information Manager earns an average annual salary of $88,580
Phlebotomy Technician earns an average annual salary of $29,730
Radiologic Technologist earns an average annual salary of $55,910
Dental Assistant earns an average annual salary of $34,500
Medical Transcriptionist earns an average annual salary of $34,020
Medical Lab Technician earns an average annual salary of $37,240
Medical Office Manager earns an average annual salary of $76,870
Veterinary Technician earns an average annual salary of $30,290
Surgical Technologist earns an average annual salary of $41,790
To earn higher salaries, CNAs can opt for careers that give them more authority in the medical field. There are several specialties that can suite their work schedules and immediate lifestyle, and which can also help them to transition quickly from their jobs to higher levels. Some specialties that CNAs should consider for their advancement include:
Advanced Practice Nursing: By taking a degree program in advanced nursing practice, CNAs can specialize in critical care, gynecology, palliative care, psychiatric nursing and other areas that pay more and have more potential for career growth.
Radiology/Sonography: Opting for training in radiology or sonography will help the nursing aide to play a part in the diagnosis and treatment process, and to earn more salary and have greater career advancement opportunities.
Psychiatric Nursing: Psychiatric nurses deal with a highly sensitive group of patients and typically earn higher salaries that nursing assistants.
Medical school: For nursing assistants who find the medical environment perfect for their career development, opting to enroll in a medical school is a huge and positive step. However, the CNAs will need to take up to 12 years of schooling before they can finally become physicians and earn more than triple the CNA salary.
If you seek to move from a CNA into a nursing or medical degree program, you should follow these guidelines in order to keep a smooth transition:
Do not quit your day job: Advanced training in nursing or medicine requires a lot of money and can easily throw you into debt. Hence, you should keep your job to get some money to pay your fees. Besides, some employers will even offer to pay your continuing education fees if you accept to work for a certain minimum amount of time every day. If you find that the classes consume much of your time and you cannot take overtime duties, at least keep your day job.
Choose a specialty: As a practicing CNA, you will be fortunate to have experience in the hospital environment and in specific sections of health care. Make sure to choose a specialty in which you are experienced. Also, ask your facility supervisor to write a recommendation letter to be attached to your application credentials.
Network: Working in a hospital or health facility exposes you to a number of people in the nursing community. It is prudent to network with these people and to inform them of your intention to pursue higher nursing or medical education. Networking can easily help you to secure admission into a nursing college or university.
Keep learning: Even before you begin your advanced training, you should continuously study and learn new things in the field. New technologies are always affecting the procedures of nursing practice and keeping up with the changes will make your qualifications and experience relevant at work and during your studies. Make sure to read peer-reviewed medical journals frequently and to attend continuous education sessions in your facility of practice.
CNA Job Description
Return to top of page >
Certified nursing assistants are front line patient care professionals who perform vital responsibilities to minimize the stress of sickness on patients, especially those who are incapable of caring for themselves. CNAs are found in every setting where there is need for personal patient care as they are relied upon to offer basic care and free up LPNs and RNs to perform more complex procedures and tasks that require advanced training and expertise. While the duties of a nursing assistant may vary from one setting to another, the professionals typically provide hands-on contact with patients through helping the patients with basic tasks such as dressing, eating, bathing, getting in and out of bed, grooming, exercises, walking and getting into wheelchairs.
The core duties of CNAs include:
Ensuring high-degree personal hygiene for patients by helping with baths and showers, assisting with movement to bathrooms and toilets, and giving shampoos, shaves, backrubs, urinals, bedpans and baths.
Providing daily living activities such as feeding patients, serving meals, ambulating, positioning and turning patients, and providing nourishment and freshwater between meals.
Providing adjunct care through administration of douches, enemas, non-sterile dressings, heat treatments, surgical preps, ice packs, sitz baths and therapeutic baths; and applying restraints.
Maintaining patient stability through prompt checking of vital signs and weight, recording intake and output volumes, and testing urine.
Ensuring patient comfort by applying appropriate materials and resources, transporting patients, answering patient calls, and reporting observations and changes to nursing supervisors.
Documenting activities by completing forms, logs, records and reports.
Maintaining best nursing practices by adhering to procedures and policies.
Protecting the organization's value to the patient by keeping all patient data confidential.
Serving and protecting the hospital community by observing professional standards, federal, state and local requirements, jcaho standards, and hospital procedures and policies.
Enhancing the reputation of the nursing desk and hospital by exploring opportunities for value addition in daily tasks.
Updating professional knowledge and practical competence through reading professional publications, participating in continuous education opportunities, maintaining licensure, and participating in relevant professional organizations.
Typically, the nursing assistants work in hospitals, retirement communities, physician offices, community care centers and nursing care facilities where may take and record vital signs, administer medications, deliver lab samples, change bedpans, make beds, listen to patient concerns, and report mental and physical changes in patient condition to other members of the healthcare team, and monitor patient nutrition and hydration. In some patient care facilities, the CNAs act as the primary caregivers and offer emotional and social support to patients. And whereas NAs in hospital environments often work with different patients each day, the CNAs in long-term care settings usually foster closer relationships with few patients. CNAs are not authorized to give medical advice or to diagnose patients. Since the work environment is taxing, individuals aspiring to be CNAs must have strong work ethic and unwavering resilience.
The job is often performed indoors, but it requires physical ability. For instance, nurse aides lift equipment, food, clothing, bedding and other supplies, and move patients when necessary. Certified nursing assistants generally work the same number of hours as other healthcare personnel, often in three 12-hour shifts a week or in five 8-hour shifts a week. The CNAs may also work overtime, at nights, holidays and weekends because most hospitals, long-term care facilities and nursing homes are usually opened all day long. Nonetheless, the CNA is an ideal choice for all individuals who are seeking career stability and those who are committed to helping others.
Careers Similar to Nursing Assistant
CNAs, psychiatric aides, medical assistants and orderlies are usually grouped together into one large class, and while the jobs share a number of duties, there are fundamental differences. Here are the differences:
Psychiatric Aides: The career is similar to the nursing assistant job except for the work setting. Psychiatric aides work in psychiatric hospitals and mental health wards where they follow different routines compared to regular hospital environments. Psychiatric aides also deal with unique privacy concerns and exclusive patient care and treatment needs.
Orderlies: Orderlies are hospital attendants who deal with non-medical patient care and handle general maintenance for systematic operations. They do not need certificates or degrees to enter their careers, and they typically interact with patients only during non-treatment activities.
Medical Assistants: These personnel do not need certificates or degrees to practice and their core duties are to help nurses and doctors with their daily tasks. Medical assistants have lesser authority to indulge in patient treatment and care than CNAs.
Certified Nurse Assistants: CNAs interact with the patients directly and participate in patient care and treatment more often. They take vital signs, collect patient data, maintain patient hygiene and administer basic care. Due to their certification and training, the CNAs have more authority to participate in patient treatment than medical assistants. In fact, CNAs are paid better than medical assistants.
How to Become a CNA
Return to top of page >
To become a certified nursing assistant, you must first complete a technical training program in order to master the skills necessary for success in the field. The requirement for entry into the nursing assistant training program is a high school diploma, a GED or any relevant form of post-secondary education. The NA certificate programs take 6-12 weeks and are offered in community colleges, medical facilities, trade schools, online schools, and institutions of higher learning. The coursework in CNA programs include basic nursing skills, anatomy, physiology, nutrition, personal care skills, basic restorative services, infection control, resident's rights, caring for cognitively impaired patients, social service needs, mental health and pharmacology. Practical skills are usually learned by the students during clinical activities and supervised training with residents of nursing homes.
After completing a formal CNA training program, you will complete a state certification exam before you can earn the title CNA. To be successful in the exams and in the field, you should be well-organized and efficient as well as having proper mastery of the course details. Attention to detail and ability to multi-task are also critical for success as a nursing assistant. There are many employment opportunities to nurse aides, which arise from new openings and high rates of turnover, but you must be aggressive enough to secure the best opportunities. Indeed, while some degree of training and professionalism is required in nursing assisting, the barriers to entry into the career are much fewer than for many other positions in the healthcare sector. Therefore, if you are passionate about working in the medical industry, then the CNA career can be an easier option. Moreover, the nursing assistant position can provide a path to career development and advancement into higher fields in the nursing and healthcare industry.
If you want to become a certified nursing assistant, you must have a high school diploma or a GED in order to register for a certificate program in a nursing assistant course. The courses you take in high school should include biology, chemistry and extra science classes in order to prepare you for training. While you do not need a degree to practice as a nursing assistant, you will need to complete 75-150 hours of training and to take a state-sanctioned competency exam before you can earn the title CNA. Prior to enrolling in a training program, you will need to take a background check and drug tests, which must confirm your integrity and good health before admission into the training programs. Since as a nursing assistant you will be a principal link between patients and LPNs or RNs, you must also have strong communication skills and the ability to work in a team.
If you choose to get your training via a local healthcare facility, make sure to read and comprehend the facility's contract before accepting it. Some facilities require aspiring CNAs to work for a certain minimum length of time before receiving their certification. If you find such contracts with local hospitals inconveniencing, you should opt for training in vocational schools, community colleges, online training programs and other organizations such as the Red Cross. Regardless of where you take the course, the training program will last 6-12 months, with most classes focusing on on-site training. Nonetheless, you must make sure that the program is accredited by the National League for Nursing Accredited Commission (NLNAC) and is approved by your state in order to avoid wasting your time and money on non-accredited courses.
To practice as a nursing g assistant, you must take a competency test comprising of multiple choice and practical questions to demonstrate your nurse skills theoretically and practically. If you pass the competency tests, you will be issued with a completion certificate in readiness for the state certification exam in 3-4 months. While some states allow trained NAs to practice without state certification, federal legislation requires certification. Therefore, you should prioritize certification as soon as possible to increase your employment opportunities, earn more pay and rise quickly in the nursing assistant ladder.
CNAnursing Wrap Up: This is a great career choice for you if:
You have a lot of patience and don't get rattled easily.
You want to get your foot in the nursing profession door.
Want an in-demand job and career stability.
Don't mind working some nights and holidays.